Getting kitted out
Nicola Sanders is looking forward to getting kitted out for London 2012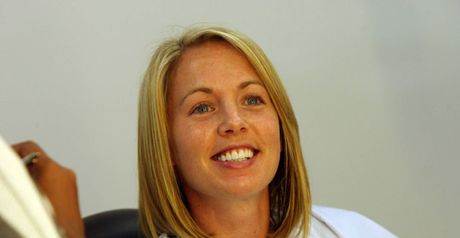 Nicola Sanders: On her way to London 2012
It's getting closer to the Games, but it still doesn't quite feel real yet - even though I've got my letter through the post confirming my place in Team GB.
You get a call first but it's nice to get a letter in the post just to confirm it. It's in a stiff cardboard envelope but it's just a normal piece of paper obviously with the GB logo on the top of it.
Maybe it's because I've been very busy that it doesn't feel real. And also we haven't got our kit yet, I keep seeing pictures of all the other teams getting all that stuff, but we get ours just before we fly out to our holding camp in Portugal, so we won't really get a chance to look through it all before we go out.
I don't think we're taking it with us, we'll just try it on and then we'll get it when we get to the Games in the Village. By the look of the weather they'll be putting extra waterproof gear in. It's felt like November when I've been training, it felt like winter training and it's meant to be July!
It'll be so nice to get to Portugal in the sunshine and get ten days of quality training in before we get back to the rain over here.
I've got the little letter saying you're going - once I get the kit I'll get even more excited.
Sock monkey
One extra piece of kit I'll have is a bit strange....I was speaking to my friend the other day and she makes sock monkeys, so I'm getting her to make me a GB one, so that'll be my little mascot and once I get my GB sock monkey that'll make the Olympics real for me!
I'll see if I can put a picture up on Twitter once I get it some everyone can see my GB sock monkey.
We've also been given our medal target by the powers that be. It's tough to get medals in athletics, but hopefully we should make our target, and it's always nice to beat it so that's what we'll be going after.
I think in a home Games, all the home nations tend to do better than they did normally, so that should help boost our medal tally. Mo Farah and Jess Ennis will be our top guys, and Dai Greene the captain and Phillips Idowu have got a chance - there are quite a few chances we've got for medals.
Obviously I'm hoping for a relay medal, I don't know who'll be running in the team yet as we've got a big squad, but as long as we're all running well we've got a chance.
We're always in the top four or five, we finished fifth in Beijing and fourth last year at the World Championships, there's always the big three of America, Jamaica and Russia making it tough for us, but it is doable - we just have to be at the top of our games but we've got a shout.
Captain Greene
Being the captain is a big honour for Dai, in our holding camp in Portugal we'll have our team meeting and Charles van Commenee will speak and then Dai will do his speech.
It didn't used to be a big deal but over the last few years there's this big pressure to be funny and do a really good speech, but he's done it before and he was really good but he'll have to think of some new jokes now!
Once we get into the village I'm looking forward to seeing some of the big stars again. It's always a bit weird being in the village with all the big sports stars. I really like seeing the tennis players because that's not really a sport that's that accessible.
I saw some of the basketball players last time but it got so ridiculous in the dinner hall they ended up having to section off the American basketball team because the likes of the Japanese women's basketball team were going mental and crowding around them when they were eating so they had to corner them off so they could eat!
You think because they're all sports people everyone's going to be cool, but with the likes of those, they're superstars so everyone goes mental around them - even in the village.
But first it's Portugal and before that we finally get our hands on some kit!