Elise Christie has had enough emotional ups and downs over the last 12 months to last a lifetime.
Just over a year ago the 24-year-old Sky Scholar from Livingston was "confused and heartbroken" after crashing out of the Sochi Olympics. Tears, no medals, abused on Twitter and she didn't want to go anywhere near an ice rink.
Christie's season is far from the classic 'bounce back' tears to cheers story. She returned to the ice after her Russian misery to get on the podium again at the start of 2015 and just as the fairytale was heading for a glitzy finale, another fall in a top competition made her want to quit the sport. Worse was to come. The death of her Grandma rocked her to the core a week before she was due to compete on the world's biggest stage. What happened next?
Here's Elise's momentous year in her own words... 
The start of my season was really disappointing. I struggled with motivation for the sport after Sochi. (She was controversially disqualified three times at the 2014 Winter Games). I had always thought short track was my thing but I lost that.
I felt I had given up so much. I didn't skate for eight weeks which was the longest I had ever done and I was just frustrated. I didn't blame anyone and I knew I had made mistakes. It wasn't until I got back into training that I realised how affected I was.
It was a rubbish time. It just didn't feel the same and I saw it as a grind. I struggled with pushing my body through the limits and then I went to Korea. Things changed for me. It was so different and opened me up to the 'old me' with my brain taken out of its normal environment.
I started to view the sport in another way with their system being so different. We are athlete-led with the coach helping you. In Korea the coach is in charge and runs everything. It was like being in an army or back at school.
Not being in control took all the responsibility away and it made you feel easier. It was interesting to experience all of that. I did 'find myself' in Korea. I realised I wasn't just a speed skater – rather I was someone who speed skates. That's what everyone knew me for and I realised that's not what it was all about. 
I got back home and I struggled again being in my 'old environment'. The first competition didn't go well and then I fell over at the World Cup twice, something I'm not known for. I broke down and was thinking 'this is Sochi all over again'. I felt I just couldn't do it. The whole team were doing well and although it was nice to see that, it was so hard for me.
I came home and realised that nobody cared I hadn't done well or that I fell over – they were caring about me. My Sky Scholar boss Tony (Lester) sent me a message and that was all nice. Sky have supported me so much and I feel it's so important to give something back so I was annoyed with myself.
The rest of the season improved and in January I became European champion. I achieved it two years ahead of schedule and that shocked me because I had changed my tactics and mentality. I was racing to get on the podium and not specifically to win and I became champion.
I had a lot of anxiety from the Winter Games and I had been very stressed skating. Normally I'm very relaxed but the Europeans were a real turning point.
I felt good for the World Cup in Turkey three weeks later and along came the medals. I had learned about putting myself 'out there' and taking risks, instead of protecting 'my ego'. I had been sitting at the back in races and waiting for things to happen.
I wanted to go out and make my opponents 'beat me' and lead in races with more risks and it paid off. I was scared of doing that straight after Sochi where I had gone for it and lost my gold medal.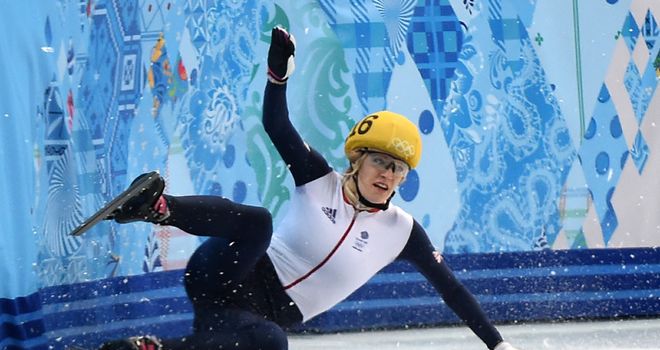 I was happier than I had been all year. The World Championships were next in Moscow. This was big. And then my gran suddenly passed away. She died on the Sunday and I was due to leave six days later and it was the most important week of training. I didn't train all week because I went to Scotland to see my dad who was heartbroken.
I just didn't think I'd go. It was the first time for a year I was in a good place and it just took me back. But dad said my gran would kick me if I didn't go. She was a feisty girl! I had missed seeing her so much because of my training so it would all have been a waste. I was in a bit of a mess and not expecting too much.  
I did the best I could under the circumstances. My gran loved watching me skate live on her phone so on the ice I was thinking she was watching me closer. I fell over in the first race and it devastated me. But I managed to win my first medal in the 500. It didn't sink in at all. My coach told me I had won a medal and it just went over my head.
I regretted not celebrating. I got up the next day for the 1000m race and told myself I would definitely celebrate... 
And I got another silver! (Elise became the first Briton to win two medals at the Worlds). It just went crazy in my head – I was a double world medallist and it sunk in then. I was gutted my gran didn't see it but I was so proud all my hard work had paid off. 
Overall, it has been a very emotional year, a tiring one but also very rewarding. I didn't think I'd get through this year and get a world medal. That's really motivated me for next year. I want to work on my weaknesses and be on that podium overall. Hopefully I can go out and show the world who's boss!
---
Elise Christie is one of 12 athletes being supported through the Sky Academy Sports Scholarships scheme.
The Scholarships offer a programme of support tailored to each athletes specific requirements covering areas such as funding, media coaching, mentoring and wider developmental support.