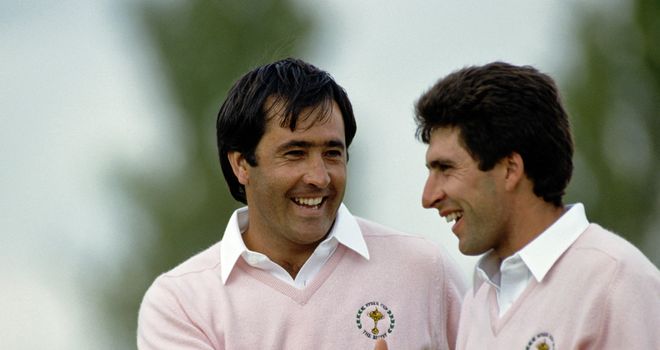 Ballesteros and Olazabal: The greatest Ryder Cup pairing?
European skipper Jose Maria Olazabal says he will feel the presence of Seve Ballesteros at the Ryder Cup.
The Spanish duo forged one of the tournament's most formidable pairings, winning 11 and losing just two of the 15 games they played together.
Seve then became a captain like no other in 1997, racing around Valderrama on his buggy as though he was being paid by the mile.
RYDER CUP LIVE ON SKY
The only place to watch dedicated live coverage of the 2012 Ryder Cup is on Sky Sports. We'll be at Medinah Country Club to bring you all of the action with more than 30 hours of live golf available in stunning high definition and in glorious 3D on the Sky 3D channel. Click here for more on our Ryder Cup coverage
His determination to succeed was such that he more than once woke assistant Miguel Angel Jimenez up in the middle of the night to discuss his latest plans!
Ballesteros lost his battle with a brain tumour in May last year but Olazabal says the spirit of Seve will be strong at Medinah.
"Seve will be present somehow. I will have to find a way," he said.
"But I'm not going to be waking up at three and calling any of my vice-captains to check on pairings for the next day!
"It's very difficult to compare to Seve in any way. He was really all over the place - I don't know how he managed to be in so many places at the same time to be honest.
"He was very close to the players, sometimes a little too close, trying to hit the shots. I'm not going to go that far," laughed the 46-year-old from San Sebastian.
Before he passed away Ballesteros helped prepare Olazabal for the job ahead.
He had been appointed as Colin Montgomerie's successor three months earlier and while Olazabal spoke then of hoping that Ballesteros might be well enough to travel with him to the match he knew the chances were slim.
"I talked to Seve about the captaincy when I made a couple of visits to his home when he was sick," he said.
"He was very relaxed - he had a different view of it!"
"I talked to Seve about the captaincy when I made a couple of visits to his home when he was sick."
Olazabal on getting advice from Ballesteros Quotes of the week
Gone by then clearly was the intensity Ballesteros brought to the match and instilled into his young protege.
"I had heard about the Ryder Cup, but I had never seen it until I took part (in 1987 at Muirfield Village) because it wasn't on our television at home," he added.
"It's something that is completely different. You don't see that atmosphere somewhere else.
"Seve anticipated that for me well in advance - as soon as I was in the team he made it clear to me.
Helped a lot
"He told me the crowds were going to be big, loud, so that helped a lot. But you have to play in it to really get the feel of what it is.
"The first Ryder Cup I was learning and I let him do everything - he was in charge.
"As I played more we got to the level where we were approaching the match from the same perspective. It took, I would say, three Ryder Cups."
They last played together in 1993. Two years later Olazabal, having been chosen as a wild card by Bernard Gallacher, withdrew because of the suspected rheumatoid polyarthritis in his feet which left him crawling around his home and fearing he might end up in a wheelchair.
He could not hold back the tears after he returned to play under Ballesteros in their home country, but his own Ryder Cup was far from over.
Olazabal found himself at the centre of the controversy which marred the end to the 1999 match in Boston, witnessing an American invasion of the 17th green after Justin Leonard holed a 45-foot putt.
It would have been fine if it had decided the match, but the Spaniard had still to putt for a half. When things eventually calmed down he missed and spoke out afterwards about the need for sportsmanship and etiquette to be shown.
Not that he considers that episode his worst experience in the Ryder Cup.
Worst experience
"The Brookline crowd was loud, but I think the worst atmosphere was Kiawah (in 1991). It was the Iraq War and they wanted to relate that to the 'War on the Shore'.
"I have always enjoyed the Ryder Cup, but that year, from my point of view, the spirit was not what it's supposed to be.
"That I think was the turning point to be honest. The next US captain Tom Watson settled things.
"I don't think Davis (Love) and I have to talk about it. He has a lot of respect for the game."
Olazabal's last playing appearance was 2006 in Ireland. Like Darren Clarke, the focal point of that week following the loss of his wife Heather to breast cancer, he played three games and won them all.
It meant he ended his career in the event with a record of 18 wins, five halves and eight defeats.
Now he will try as captain to put into action all that Ballesteros taught him, but win or lose one thing is sure - his mentor would have been so proud of the way he handled it.