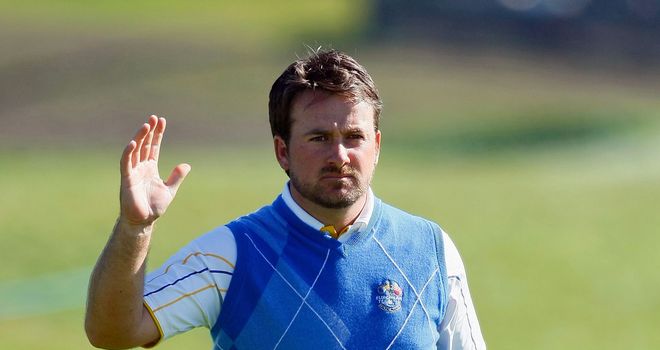 Graeme McDowell: Will be playing in his third Ryder Cup.
It is impossible to recall the 2010 Ryder Cup and not think of the 33-year-old Northern Irishman.
McDowell was awarded the MBE in the 2011 New Year Honours List. In 2002, he won the Haskins Award, given to the most outstanding collegiate golfer in the United States. McDowell follows Katy Perry, Kim Kardashian, Shaquille O'Neal and Manchester United on Twitter.
His ability to withstand huge pressure on that final afternoon was immense and his celebration of his holed putt on the 16th hole became one of the images of that match.
What the entire 2010 season proved was McDowell loves a scrap.
He won a first major, the US Open, he was superb in that Ryder Cup and he ended the year going toe-to-toe with Tiger Woods (and winning).
By comparison, 2011 was a letdown but it would have been amazing had it not been.
Thoughts of another Ryder Cup seem to have re-ignited him this season. His majors record was superb (T12 in the Masters, T2 in the US Open, T5 in the Open, T11 in the PGA), but he hasn't managed the win. That's unlikely to bother him in Ryder Cup week however.
An oddity of his two Ryder Cups so far is that both times he won one, lost one and halved one match on the first two days and then won both his singles.
He looks destined to play again with Rory McIlroy, with whom he has played superbly in both the Seve Trophy and the 2010 Ryder Cup.
In short, Jose Maria Olazabal will love having him on the team.