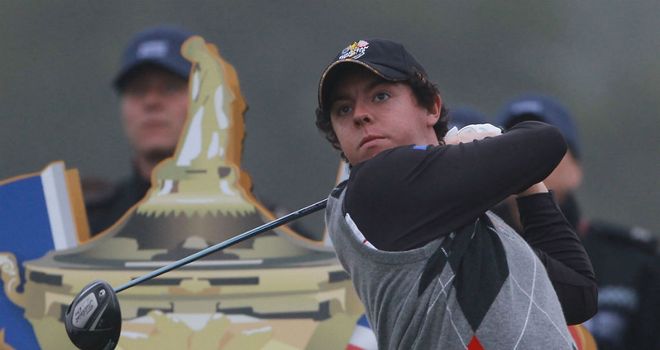 Rory McIlroy: Will be playing in his second Ryder Cup.
McIlroy has risen to superstar status in the last couple of seasons after two majestic performances in the majors.
McIlroy is a big Manchester United fan and takes all the chances he gets to visit Old Trafford. His opening 63 at St Andrews in 2010 was the lowest first round ever shot in the Open's 150-year history. He follows Rihanna, Sky Sports News and Richard Branson on Twitter.
Last June he bounced back from a final round collapse at Augusta by winning his first major - the US Open - by a mighty eight shots. And last month he slayed another major field by repeating that eight-shot margin of victory in the PGA Championship at Kiawah Island.
It hasn't been all plan sailing though for the current world number one and between those two great weeks he had something of a rise and fall.
To begin with he became more consistent than at any point in his career, at one point finishing in the top five in 12 of 13 starts (including three wins).
But then he missed four cuts in five starts and media speculation went into overdrive, specifically blaming his relationship with tennis star Caroline Wozniaki for his poor form.
It says much for the Northern Irishman's maturity that he rarely gave the impression that this pressure was getting to him before silencing the critics at Kiawah Island.
Back-to-back wins in the FedEx Cup play-offs have made it three wins out of four for Rory on US soil and, quite simply, he's the hottest player in golf.
He made a solid rather than spectacular Ryder Cup debut in 2010, but he did prove once again that he makes a fine partner for Graeme McDowell, and he also proved himself wrong: he had once doubted that the Ryder Cup was a big deal, but he soon realised it's a very big deal - and he likes it.