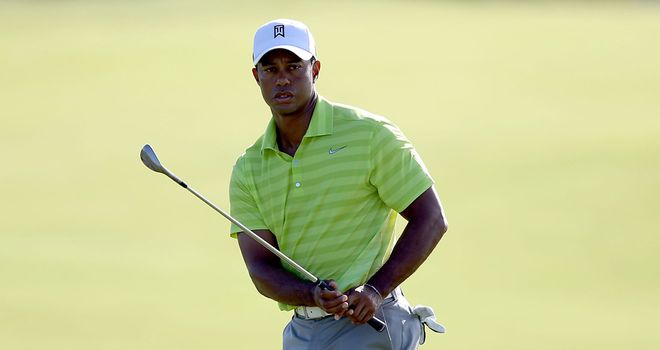 Tiger Woods: Will be playing in his seventh Ryder Cup.
Conventional wisdom has it that Tiger Woods is a lesser player in team golf than on his own. And the stats back that notion up.
The man who has won 14 major championships and 101 professional titles worldwide has played 29 times in the Ryder Cup and won just 13 times, halving two and losing 14.
Perhaps a bigger concern are two related stats.
Firstly his all-round Ryder Cup figures are boosted by his singles results (he has won four, halved one, lost one) which makes his foursomes and fourball results very poor.
Tiger, aged 19, played on the 1995 US Walker Cup team, losing his opening singles to Gary Wolstenholme in a 14-10 defeat. Woods shot 48 for nine holes at age 3 and putted against Bob Hope on the "Mike Douglas Show" at age 2. Tiger won five matches out of five at the 2009 Presidents Cup, winning the first four matches when partnered with Steve Stricker.
Secondly, he has played in six Ryder Cups and only once finished on the winning side. In fact, the last US victory in 2008 came without him, leading his critics to conclude that the Americans were better off with no Tiger.
Let's look at it from another perspective however: he's had no less than 10 partners in the Ryder Cup so he's not had it easy. He also had a good 2010 Ryder Cup, winning two of three matches with Steve Stricker (will that partnership be reformed? You'd think so) and thrashing poor Francesco Molinari.
It is also hardly just down to him that the Americans have struggled in recent years in the event.
Nonetheless he will be closely monitored this week. He's still the biggest name in the sport and his perceived weakness in the event is a story that will always provoke column inches.