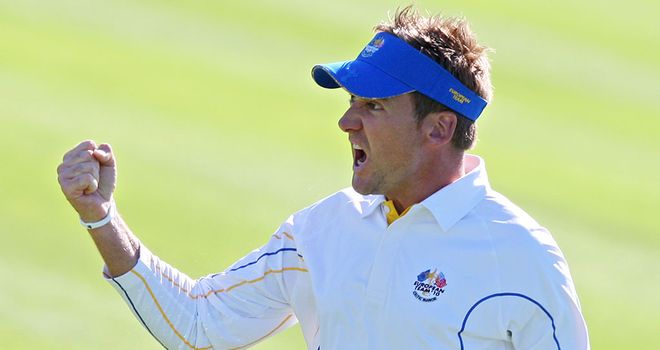 Passionate: Poulter celebrates an eagle in his 2010 Celtic Manor clash against Matt Kuchar
The Ryder Cup - it's golf, but not as you know it. Just ask former captain Colin Montgomerie.
Monty led Europe to victory over the United States at Celtic Manor in 2010 and this month he'll once again be in the thick of the action as a pundit on Sky Sports' comprehensive coverage from Medinah. FULL DETAILS HERE.
As part of the build-up to this week's showdown, skysports.com and @SkySportsGolf offered you the chance to take part in answer a Q&A with Monty on all things Ryder Cup.
In part one, Monty recalls his favourite Ryder Cup memories, shares his views on the European team and names who he rates as the best Ryder Cup player ever...
@John66 by email: We have all heard the stories of how nerve-racking and pressurised the Ryder Cup can be, so my question Colin is what's the most nervous you have been during your Ryder Cup playing days?
MONTY: That's simple, John - the first tee shot. I've had the honour twice - at Oak Hill in 1995 and Oakland Hills in 2004. It doesn't get any more nerve-jangling than hitting the first ball of the Ryder Cup. I can honestly say those two occasions were the most nervous I've ever been on a golf course but thankfully I managed to do ok.
@Stevec100 on Twitter: What is Monty's most cherished memory from the matches he played in?
MONTY: Hi Steve - that has to be holing the winning putt in 2004. That's about the best that it gets in the Ryder Cup. It's one thing to get the opportunity, it's something altogether different to take that opportunity but thankfully I did. My overriding emotion in that moment was relief more than anything because it was one of those horrible four-foot putts that was miss-able. If it had been a 20-footer I could have missed it, shrugged my shoulders and walked on but because it was only from four feet everyone expected it to go in. As soon as people expect things, they become more difficult.
@RyanKing on Twitter: What was your best memory of the victory at Celtic Manor?
MONTY: Hi Ryan. It was an honour to stand up in front of my team in 2010 and introduce them as their captain.
@daffydavies on Twitter: will the USA be surprised by Colsaert's game, he's not just a big hitter?
MONTY: Daffy - Nicolas is a much better player than a lot of people give him credit for. He's very under-rated indeed and I think a lot of Americans will be surprised. Yes, he hits the ball a mile but there's much more to him than that because he's one of the straightest hitters in the game. If he can put that combination together at the Ryder Cup, he'll have a birdie chance on most holes. I happen to think he'll get on very well even though he's only played a handful of times in America before.
@MrMatthewCull on Twitter: does any player in the RC team inspire the European locker room more than @IanJamesPoulter #talisman
MONTY: Hi Matthew - I suspect you're a fan of Ian's but you're also dead right! There is no-one in that European team-room who is more of a motivator than Ian. He's the best in that respect in that locker-room and I'm so glad he was picked. He brings a confidence to the locker-room and that's everything because if you are confident of something there's every chance you can achieve it. I think Ian would agree he's not the best golfer in the world (although he is not far off) but, boy, does he believe in himself and that can make a huge difference.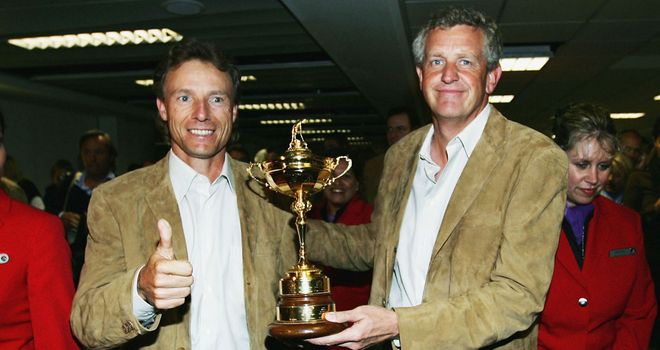 @AMSmith1987 on Twitter: Best Ryder Cup player of all time?
MONTY: Bernhard Langer. There's no doubt in my mind, Aaron. Bernhard Langer is the best Ryder Cup player of all time in my view because he had everything. He was professional, he was respectful and he was a fantastic playing partner - someone you could trust. Quite simply he was absolutely brilliant. Having him on the team was a real security blanket. With his experience, you knew he was someone you could rely on 100 per cent - and that's a wonderful boost for any team.
For the sake of balance, Aaron, I'll pick an American too. Names like Nicklaus, Watson and Palmer spring instantly to mind but I'm going for a player that you have to go and beat - Jim Furyk. You knew Jim was never going to beat himself, so it was all down to you. He's a real stalwart of America's line-up and someone you wouldn't necessarily mind avoiding in the pairings!
þ@DazTayl on Twitter: Do you think the American fans have calmed enough since the Brookline fiasco to support their team sportingly?
MONTY: Yes, they have calmed down since then, Darren, but over time the exuberance we saw that day has started to creep back in and it will be interesting to see how the American crowd behave this time. I do hope that they give Europe a chance to play a fair game. I'm all for patriotism, I'm all for supporting your country or continent - I'm very proud to be Scottish, British and European - but everything has to be in moderation. I so sincerely hope that the atmosphere doesn't go over the top this time.
Don't miss Part Two of our Q&A, when Monty discusses how he'd pick his pairings, why he doesn't want to see Tiger and Rory go head-to-head in the singles, plus what advice he'd give Jose Maria Olazabal....
Check out everything you need to know about how to follow the Ryder Cup on Sky Sports here - and don't miss our live build-up show - which includes coverage of the opening ceremony from 9pm on Thursday on Sky Sports 1 HD.