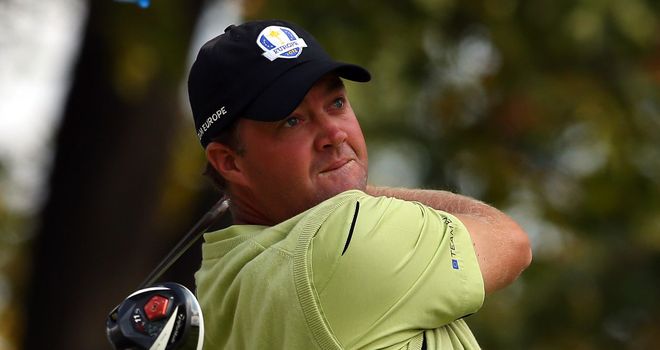 Peter Hanson: Was upset at being overlooked for Saturday's action at the Ryder Cup
Peter Hanson has admitted that, despite the euphoria of victory, his confidence took a hit during the Ryder Cup at Medinah last week.
The Swede has revealed his hurt at not being selected by captain Jose Maria Olazabal for any of Saturday's matches.
After he went on to lose Sunday's singles encounter with Jason Dufner, it meant he was the only European player not to contribute anything towards his side's winning total.
Hanson acknowledged Olazabal's decision to overlook him lead to some angry words, but is still delighted his team-mates went on to deliver their most remarkable of triumphs.
"The Ryder Cup kind of hurt my confidence a little bit," he said on Thursday after starting the Dunhill Links Championship at Carnoustie with a level-par 72 on his 35th birthday.
"I came in full of confidence after the win in Holland and played really well during the practice rounds. I was feeling great and just wanted to get out there and play.
"When I didn't get to play more than 14 holes on the first couple of days (he and Paul Lawrie lost their fourball 5&4 to Bubba Watson and Webb Simpson) that really got to me.
"I think that hurt my performance a little bit on the Sunday, even if I shot a couple under. I think to put on a really good round on Sunday I would have needed to play a bit more."
Very upset
Asked if he spoke to Olazabal, Hanson added: "I did a little bit, but it's hard. You're part of a team and when I got notified 20 minutes before we teed off on Saturday I got very upset.
"I didn't take that very well, but I just locked myself in a dark room and stayed there for a couple of hours.
"You don't want to let your bad feelings affect the other guys. It's all about getting out there and supporting your teammates, so I was out there Saturday afternoon walking the fairways.
"I think in that respect I didn't damage the team and that was the main thing. You can't let your ego affect the rest of the team.
"I was so sure I was going to play, so I actually went out and played a couple of holes Saturday morning and did my warm up early in the day.
"When I got notified I was actually filling in the pinsheet (hole positions) in my book, so that's probably why I got so upset. I was already in game mode."