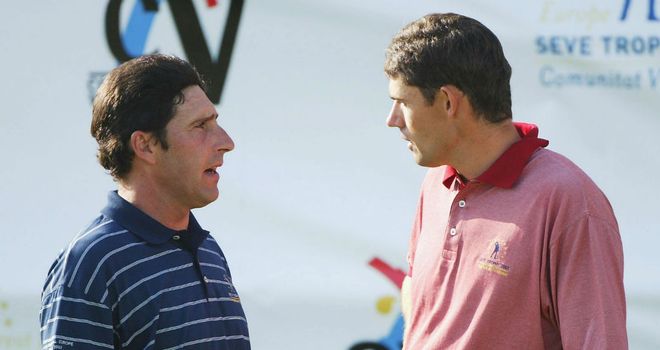 Jose Maria Olazabal (L) chose to ignore the wildcard claims of three-time major winner Padraig Harrington (R)
Former European captain Bernard Gallacher believes current incumbent Jose Maria Olazabal made the right decision in overlooking Padraig Harrington for his Ryder Cup side.
As expected on Monday, Olazabal ignored the claims of three-time major champion Harrington and handed his two wildcard picks to Ian Poulter and Belgian rookie Nicolas Colsaerts.
Colsaerts is the only uncapped player in the Spaniard's line-up, but Gallacher feels he merits his place in the team and absolutely deserved to be selected ahead of Harrington.
"It's a very strong side," Gallacher stated. "They are the best 12 players in Europe - it's perfect.
"There were absolutely no surprises. Jose Maria reduced the amount of wildcard picks from three to two this time round and the strong message he gave was that he wanted the players to play their way into the team.
"That's exactly what's happened. Martin Kaymer was in the tenth and final automatic position, Colsaerts was number 11 and the next highest player in the world rankings not already in the side was Poulter.
"Jose Maria has actually gone straight down the points list - those that are playing good golf have been selected and Harrington was just too far down.
"Padraig has three majors under his belt but he's probably tried to concentrate more on doing well in the majors rather than in regular tournaments week in, week out where you earn your Ryder Cup points.
"In a way he's a bit unlucky there but Jose Maria gave clear signals throughout his captaincy he was going to stick very much to his qualifying list."
Gallacher, who guided Europe to victory at Oak Hill in 1995 after defeats in his two previous outings as captain, also feels that Sergio's timely return to form is a huge boost to European hopes.
The Spaniard secured his place in the European team with victory at the Wyndham Championship a couple of weeks ago and came close to making it back-to-back wins at The Barclays over the weekend, only to fall away to a third-placed finish during the final round.
Garcia boost
"The last piece in the jigsaw was Sergio because he could have caused Jose Maria problems," Gallacher continued.
"I'm sure Jose Maria said to himself, 'That's absolutely great, let's go and have a glass of champagne - he's a guy I really want in my team'.
"He didn't want to have to pick Sergio as a wildcard - you always want your best players to qualify."
Perhaps the only real cloud on the horizon for Olazabal at present is the form of Martin Kaymer who just clung on to the final place on the qualifying points list.
The former world number one is without a victory for ten months and has struggled with his game during the course of the current season.
But Kaymer - who sat out the last points-counting event, the Johnnie Walker Championship, in order to work on his game - has delivered some positive bulletins about the progress he has made and Gallacher feels he could easily be back on song by the time the action gets underway in Chicago.
"That's the only disappointment but Jose Maria has been on the phone to him (Kaymer) and he's pleased he's working on his game and is going to be playing in a few tournaments before the Ryder Cup," added the Scot.
"Martin's not the same player he was a couple of years ago when he was U.S. PGA champion and world number one, that's for sure, but he's won enough money in this campaign to qualify automatically.
"Having only one worry out of 12 players is okay. In my time we had worries about a number of players.
"I think it's just a confidence thing with Martin. Sometimes you can just get on a bad run, but with a young player like Kaymer confidence can turn around very quickly."