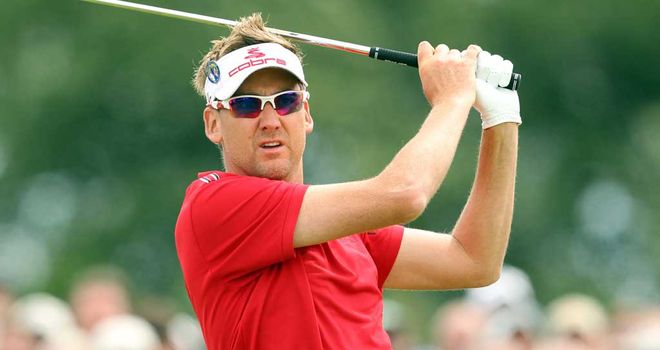 Ian Poulter: Will be playing in his fourth Ryder Cup.
Biography
The 36-year-old has won 15 times worldwide and reached number five in the world rankings.
Fact Box
Poulter has over one million followers on Twitter. Tiger Woods is the only golfer to have more.
Poulter has his own clothing range - IJP design. "Look good, feel good, play good has always been my mantra."
Ian was reprimanded after wearing an Arsenal shirt during the 2006 Abu Dhabi Championship.
But his superb record in matchplay golf and the Ryder Cup in particular has become his best known characteristic.
Poulter has won both the WGC and Volvo World Matchplay titles in recent seasons and, as he says himself: "I love the cut-throat, face-to-face nature of matchplay."
He's also, of course, bold. He told Colin Montgomerie that he would win points for the team in 2010 and promptly did it.
On debut in 2004 he lost his only match before the singles but then won 3&2 in Europe's thrashing of the home team.
Four years later he was a highly controversial pick by Nick Faldo but backed it up by top scoring with four points from five matches played. He was excellent again in 2010 with three points out of four.
Poulter would probably play well with most of the team but it is highly likely that he will be reunited with his close friend Justin Rose after they won two of their three matches in 2008.