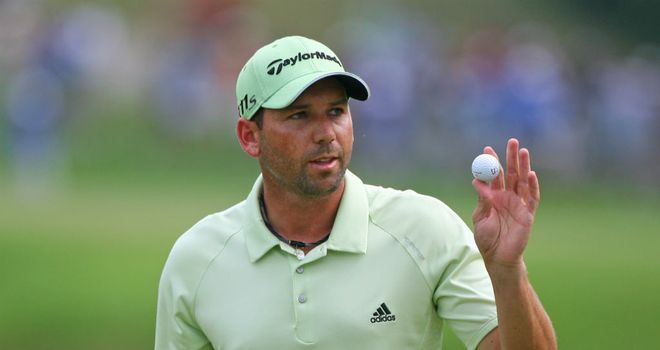 Sergio Garcia: Will be playing in his seventh Ryder Cup.
Biography
Like his compatriots Seve Ballesteros and Jose Maria Olazabal, Garcia has become popular all over Europe, and in the UK in particular, because of his love of the Ryder Cup.
Fact Box
Sergio reached a career high world ranking of two after winning the HSBC Champions tournament in China in November 2008.
He began playing golf at the age of three and was taught by his father, Victor, who is a club professional.
Sergio is a big Real Madrid fan while he's also close friends with tennis ace Rafael Nadal.
And in five appearances he has proved one thing undoubtedly - he makes a brilliant partner.
In 1999 he was unbeaten with Jesper Parnevik, in 2002-4 lost just one of six matches with Lee Westwood, in 2004-6 he was undefeated alongside Luke Donald and in 2006 he had a 100% record with Olazabal. In that period he won no less than 14 points from 16 matches.
His one point from three in 2008 probably reflects more on the curious treatment he endured at the hands of the captain Nick Faldo.
If Garcia makes a great partner, he's not the best in the singles, having won just once in five attempts. But you can bet he will thrive again in the team environment.
Like all great Ryder Cuppers it enlivens him and frees him from the baggage which seems to have overloaded him at every major championship; his ball-striking is always imperious and when he has a partner alongside his putter becomes hotter than when he is on his own.
His presence, secured by a victory in the recent Wyndham Championship, maintains Spain's record of having a playing presence at every Ryder Cup since Europeans entered the match in 1979.