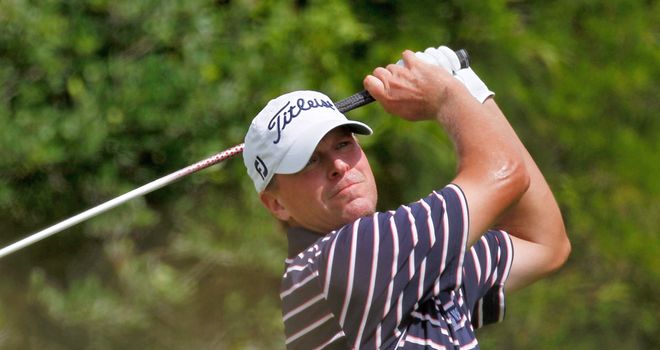 Steve Stricker: Will be playing in his third Ryder Cup.
Biography
Surprisingly, although Stricker once represented the USA in both the old Dunhill Cup and the Presidents Cup as far back as 1996, he only made his Ryder Cup debut in 2008.
Fact Box
Stricker slipped to 337th in the world rankings in 2005 but reached No.2 in 2010.
He rediscovered his game hitting balls out of a trailer in December snow on the practice range near his home in Wisconsin.
His wife's father was his golf coach in college and her brother, Mario Tiziani, is also a professional golfer who has played on the PGA Tour.
It's a sign of how his career peaked in the mid 1990s before dipping quite spectacularly only to peak again in the last five or six years.
As if to prove that point he has won eight times on the PGA Tour in the last four seasons, including this year's Hyundai Tournament of Champions.
His first experience of the Ryder Cup, in 2008, wasn't great. He was part of a winning team but contributed only half a point from three matches.
Twelve months on from that match he formed a fine partnership with Tiger Woods in the Presidents Cup, the pair winning all four of their matches.
That duo played again in the 2010 Ryder Cup, winning two of three, but they separated after one loss at last year's Presidents Cup.
Stricker certainly won't mind a return to Medinah because he played well to finish seventh there in the 2006 PGA Championship.