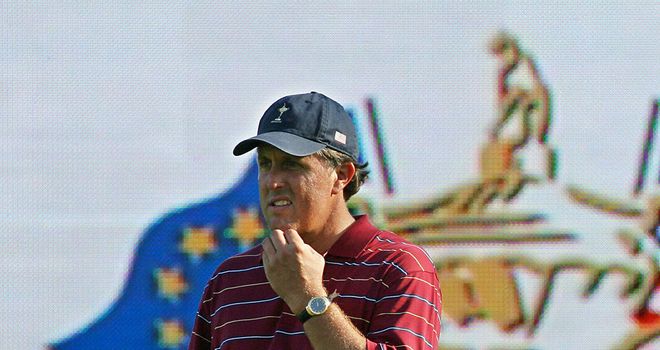 Phil Mickelson: A winner just twice in eight Ryder Cup appearances.
Biography
This will be the Californian's ninth appearance in the Ryder Cup and it is difficult to get a grip on his history in the event.
Fact Box
Phil's only two Ryder Cup wins have come on home soil - the first at Brookline in 1999 and the second at Valhalla in 2008.
He was 0-44 in the majors before winning his first Masters in 2004.
Phil is a keen table tennis player and trying to beat ping-pong king Matt Kuchar will be his big mission in the US dressing room.
The stats are not especially good: he's played 34 matches, won just 11 times, halved six and lost 17 (although his record on home US soil is better than it is in Europe).
Add to that, in being involved in the defeat at Celtic Manor in 2010 he became the American who has been involved in most Ryder Cup losses.
It's also true that if you asked many golf fans for their primary Mickelson-Ryder Cup memory it would be a bad one - the catastrophic decision of US captain Hal Sutton, in 2004, to pair him with Tiger Woods. The sight of the two of them not speaking on the 18th fairway became totemic.
As for his play this year, he won February's AT&T Pebble Beach Pro-am in stunning style and played in the final group at the Masters. He seemed on the brink of adding to his total of four major wins but didn't grasp the opportunity at Augusta and appeared to suffer something of a hangover afterwards.
His form through the summer veered between average and appalling but a change to a claw putting grip seemed to spark him again and, with the Ryder Cup on the horizon, he posted fourth and second place finishes in the middle two FedEx Cup play-off events.
And, as ever with Phil, there's always the feeling that he's the one most capable of hitting the magical shot that could just win the Ryder Cup.