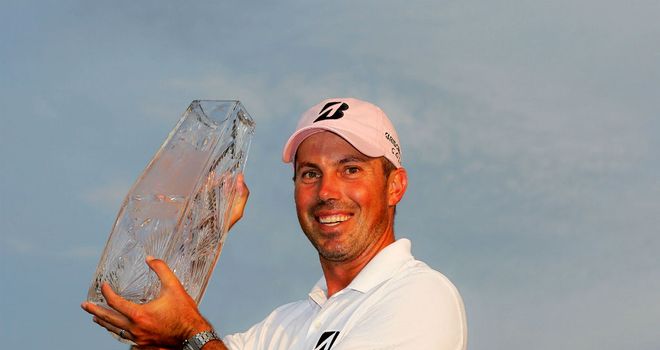 Matt Kuchar. This year's Players Championship winner will be playing his second Ryder Cup
Biography
It could be argued that the 34-year-old from Florida is enjoying part three of his golf career.
Fact Box
Kuchar was the low amateur at both The Masters (21st) and the US Open (14th) in 1998.
Those above two finishes were his best performances in the Majors until his sixth place in the 2010 US Open 12 years later.
Kuchar excels at table tennis and handed out regular beatings to his US Ryder Cup colleagues in their locker room at Celtic Manor.
Part one came in the late 1990s, when he won the 1997 US Amateur championship and thrived in The Masters and US Open as an amateur. He turned pro in 2000 and won the 2002 Honda Classic.
Then came part two: the career slump, during which time he lost his tour card and struggled with his swing.
He kept going, however, and in the last four seasons he has started to emerge as the world class talent he was touted as in the late 90s.
To back that transition up, in the last three years he has finished in the top 30 in 10 of the 12 major championships and also claimed this year's Players' Championship, the so-called 'fifth major'.
The 2010 match was his Ryder Cup debut and he emerged with a solid if unspectacular record of one win, two halves and a loss.
An interesting pointer to both his national pride and ability to play team golf came when he accepted the invite to represent USA at last year's World Cup - he played with Gary Woodland and completed a first American victory since 2000.