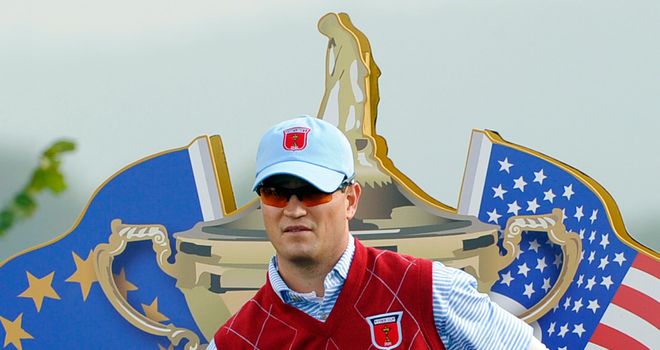 Zach Johnson: Will be playing in his third Ryder Cup.
Biography
This will be the 36-year-old from Iowa's third cap but his first appearance on home soil.
Fact Box
Johnson proved that big-hitting wasn't everything when winning the 2007 Masters. He laid up on every par five, played them in 11-under, and won the tournament by two shots.
Since his Masters win, Johnson has accumulated eight US Tour victories, making him one of the most prolific winners in America.
Johnson won the final three regular-season events on the Hooters Tour in 2001, earning him the nickname 'Back-to-Back-to-Back-Zach'.
Two past outings have ended in disappointing defeats in Ireland and Wales.
However, his record in the event is decent: he's won three, lost three and halved one match.
Perhaps the biggest noise he has made in the Ryder Cup was accidentally and after the event - he was the victim of a ham-fisted "joke" by Tiger Woods prior to the 2006 match in Ireland, as revealed by the recent Hank Haney biography of Woods.
It is intriguing to ponder if that episode will be mentioned or broached ahead of this match.
In theory Johnson is the sort of golfer who lots of team-mates would happily play with because he is always upbeat and knows how to control his ball.
That said he is also never likely to be the sort of player who scares an opponent. He might have won a major - the 2007 Masters - and he might be a nine-time PGA Tour winner, but he is not an intimidating presence.
However, it would be foolish to underestimate him and it could easily backfire on those who do.