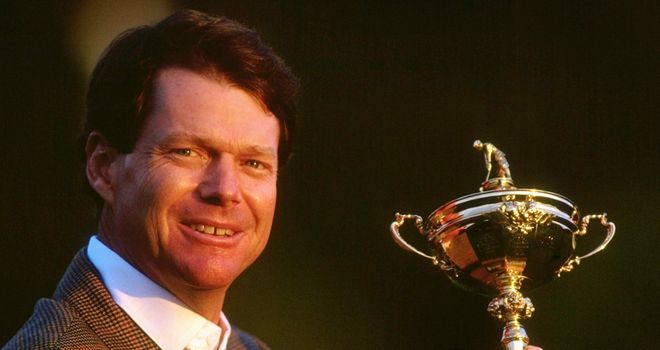 After the bad tempered 1991 match the contest began in an atmosphere of reproach - accusations of gamesmanship had been flowing in both directions, crowds were becoming noisy and golf didn't want more bad headlines.
EUROPE 13 USA 15
Europe
Ian Woosnam
Barry Lane
Colin Montgomerie
Peter Baker
Joakim Haeggman
Mark James
Costantino Rocca
Seve Ballesteros
Jose Maria Olazabal
Bernhard Langer
Nick Faldo
Sam Torrance
Captain: Bernard Gallacher
Europe
Fred Couples
Chip Beck
Lee Janzen
Corey Pavin
John Cook
Payne Stewart
Davis Love III
Jim Gallagher Jr
Raymond Floyd
Tom Kite
Paul Azinger
Lanny Wadkins
Captain: Tom Watson
Tom Watson was given the role of American captain and it was deemed a telling appointment - the gentleman of the fairways would return the contest to more honourable ways.
"This isn't war," he said before leaving the States, "this is golf. We're going over there to kick their butts. And they're going to try like hell to kick ours. That's as it should be. But when it's over, we should be able to go off together, lift a glass and toast one another."
European captain Bernard Gallacher also featured in the pre-match speculation when he selected Joakim Haeggman, the first Swede to play in the match.
The first day was a tight, and slow, affair, with the morning foursomes shared and the afternoon fourballs on a knife edge too.
In the final match out Nick Faldo, playing with Colin Montgomerie, birdied the 17th hole to draw level with Paul Azinger and Fred Couples but the match could not be completed in the dark. Europe led 4-3.
The next morning appeared crucial at the time.
Firstly the delayed fourball was halved and then Europe took the foursomes 3-1 to establish a three point lead. It seemed as if their unbeatable Belfry form was continuing.
Americans hang tough
But this was a tough American team and it had no thought of giving in.
Gallacher rested Seve Ballesteros from the fourth series, meaning his partnership with Olazabal was split for the first time since 1987, and played around with his pairings.
The ploy didn't work - America won the Saturday fourballs 3-1 and now trailed by just the one point.
That night witnessed plenty of drama. First it was revealed that Sam Torrance could not play in the singles and Lanny Wadkins volunteered himself to drop out from the singles.
Meanwhile English rookie Peter Baker stalked the corridors of a local hospital whilst his 11-month-old daughter was tested for meningitis before she was thankfully given the all clear.
On his return to the Belfry he claimed an early win, as did Haeggman and Colin Montgomerie.
Ian Woosnam gained a half against Couples in the first match out and Nick Faldo took a half in a late match but that was all the success Europe managed.
They had lost the singles again and the match by a margin of 15 points to 13.
Davis Love III was granted the glory of holing the winning putt before being overwhelmed by his team-mates.
Watson concluded by turning to his players and saying, "Gentlemen, I cannot tell you how proud I am to be your captain."