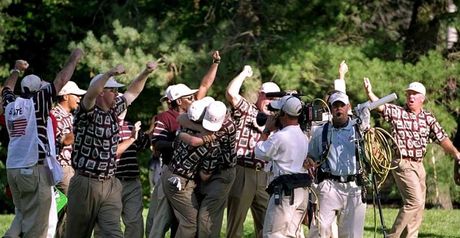 The US team celebrate - much to the disgust of skipper Sam Torrance
Following the first contest on European soil at Valderrama, the American team were determined to regain the trophy at Brookline.
USA 14½ EUROPE 13½
USA
David Duval
Jim Furyk
Justin Leonard
Hal Sutton
Davis Love III
Jeff Maggert
Phil Mickelson
Mark O'Meara
Payne Stewart
Tiger Woods
Steve Pate
Tom Lehman
Captain: Ben Crenshaw
Europe
Darren Clarke
Sergio Garcia
Padraig Harrington
Miguel Angel Jimenez
Paul Lawrie
Colin Montgomerie
Jose Maria Olazabal
Jarmo Sandelin
Jean van de Velde
Lee Westwood
Andrew Coltart
Jesper Parnevik
Captain: Mark James
In front of a hostile crowd, whose abuse of Colin Montgomerie forced his father James to leave the course, Europe built up a 10-6 lead by relying heavily on their star names.
European captain Mark James was unrepentant about his strategy but it prompted a lot of questions both during and after the match.
Three pairings (Darren Clarke-Lee Westwood, Sergio Garcia- Jesper Parnevik and Colin Montgomerie-Paul Lawrie) played all four series of match while Padraig Harrington and Jose Maria Olazabal took turns to partner Miguel Angel Jimenez.
The Garcia-Parnevik was especially impressive, claiming three and half points from a possible four.
In one sense the tactic worked because Europe built an impressive 10-6 lead over the first two days.
In another sense it failed: Europe's star players were exhausted and the three rookies Jean van de Velde, Jarmo Sandelin and Andrew Coltart had to play the singles matches with no experience of the pressure.
None of this should distract from a storming recovery from the home side who, inspired by a stirring speech from skipper Ben Crenshaw, responded to the four point deficit in extraordinary fashion (a term that applied also to their dreadful shirts). They won the first six (and seven of the first eight) singles matches and most of those by big margins.
It was stunning stuff but the Europeans were perturbed all day by the atmosphere of the galleries, which they believed to have been fuelled by the players.
There were also other suspicions of wrong-doing, with Coltart directed by marshals to look for his ball in the wrong place as he battled with Tiger Woods.
Fever pitch
The situation reached fever pitch when Justin Leonard, who had been four down with seven to play, holed a massive birdie putt on the 17th green.
It sparked riotous celebrations from his team-mates and supporters, who ran across the green even though Olazabal still had a putt to halve the hole.
European vice-captain Sam Torrance described it as the "most disgusting thing I have ever seen on a golf course" and the repercussions were felt for months to come, overshadowing the American team's superb fightback.
On the flip side the American Payne Stewart conceded his match to Colin Montgomerie late in the day, partly because the match had been decided, partly because of the abuse he had heard Montgomerie take all day.
It was to be one of the last public sighting of the universally popular Stewart, who died in a plane crash a few weeks later.
Captain James didn't pull any punches in his book 'Into the Bear Pit' published after the match. He blasted the American team and their players but also took aim at Nick Faldo.
He accused the Englishman of trying to undermine team spirit and revealed he had binned a message the six-time major winner had sent to the squad.