Super Rugby final: New South Wales Waratahs lock horns with Christchurch Crusaders
Ahead of Saturday's Super Rugby final at Sydney's ANZ Stadium, Sky Sports takes a look at the key battles which will influence the destination of the 2014 title...
By Ben Hampshire | @BH92. Last Updated: 01/08/14 10:41pm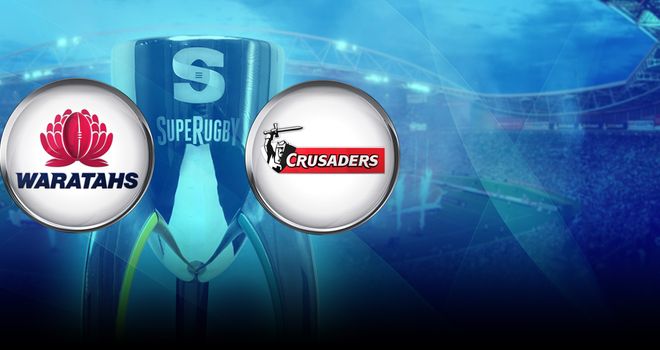 Super Rugby final will be live on Sky Sports 1HD on Saturday
Super Rugby supremacy goes on the line in Sydney on Saturday as the New South Wales Waratahs chase their maiden crown, though standing in their way is a Crusaders side vying for a record eighth title.
It is an apt finale for what has been a thrilling 2014 season. After 19 rounds of regular season action 15 were whittled down to six and now two remain. The competition's standout teams – who finished first and second respectively but never faced each other – are finally set to lock horns with southern hemisphere bragging rights at stake.
It is a clash steeped in history and one subjugated by the Crusaders. Their hegemony over the Waratahs extends as far back as 2004; a decade stretch which has seen the Christchurch franchise beat the Sydneysiders 11 times, including the 2005 and 2008 finals.
This could well be the year we see the tables turned in this age-old rivalry with the Waratahs favourites heading into Saturday's showpiece event. Michael Cheika's free-flowing 'Tahs have been the box office performers all season – topping the try-scoring charts as well as the regular season table – while the Crusaders remain the masters of timing, overcoming what has become a perennial slow start to finish second.
In the sky blue corner, the Waratahs boast flair and dynamic attacking ability. In the red corner, the Crusaders weigh in with a potent and much-revered pack and a formidable midfield pairing. It promises to be ferocious bout and a tense tactical battle oozing international prowess.
Sky Sports takes a look at the decisive duels which will have a telling impact on Saturday's outcome.
Israel Folau v Israel Dagg
Undoubtedly the two best full-backs on the international scene and both will have game-changing roles in this final showdown. Folau provides the Waratahs with an ever-present attacking threat, while Dagg's performances on the domestic from have been somewhat sporadic at times in comparison to the glittering displays witnessed in an All Blacks jersey.
Slovenly starts to the season have become customary in Christchurch but Blackadder will take heart from the fact Dagg, like his team, has grown into form as the season has gone on. The former Highlander may only have one try to his name, but rest assured he will seize every opportunity presented and remains a crucial cog in a Crusaders team which is very much in firing form.
Folau's attacking ability is well-documented and the former rugby league star is unrivalled under the high ball. His power and athleticism sees his break more first tackles than not, but more importantly for the Waratahs, Folau consistently delivers performances of the highest standard. The Wallaby has chalked up 12 tries to date and leads the competition's scoring charts, but will an in-form Crusaders defence allow him any space to breathe?  
Kurtley Beale v Dan Carter
While there is a rich history between the sides, this is an individual battle with a notable record of its own. In Christchurch six years ago, Beale lined up opposite Carter in the No 10 jersey and once again they stand toe-to-toe, albeit one position on at inside centre.
Such has been the form of Bernard Foley for the Waratahs and Colin Slade in the Crusaders line-up, coaches Cheika and Todd Blackadder have posted their potential game-changers in midfield to accommodate the in-form fly-halves. That said, while both Beale and Carter could easily occupy the No 10 role, their versatility and ability to adapt to a new role in the centres have been outstanding.
Beale wasted no time in fine-tuning himself for the No 12 post and has developed a delightful understanding with Foley, while the Wallaby's instinctive eye to expose defensive frailty has seen him snatch eight scores so far this season. Carter meanwhile, making his return from a seven-month sabbatical earlier this month, continues to exude class, grace and tactical genius after seamlessly slotting himself into the Crusaders midfield alongside the bustling Ryan Crotty.
Alofa Alofa v Nemani Nadolo
Possibly one of the most intriguing battles on the field as the Waratahs' breakthrough winger takes on the man who was released by the New South Wales franchise some four years ago. Alofa, picked up by Cheika in pre-season, bucks the trend of powerhouse backs with lightning pace and nimble footwork, while Nadolo has gone to nail down a place in the Crusaders starting XV since being offloaded by the Waratahs.
Weighing in at 94kg Alofa gives away some 30 kilos to his opposite number, though he will not fear the difference in size. Since fighting his way back from a mid-season knee injury to reclaim a starting berth, Alofa has picked apart opposing defences on his way to five tries in his maiden Super Rugby campaign. A deft intercept and 60-metre run in the third minute of the Waratahs' 26-8 semi-final win against the Brumbies proved exactly what Alofa is all about.
Standing in Alofa's tracks is the human wrecking of Nadolo, who is just one try shy of Folau's competition leading tally of 12 tries heading in to the final showdown. While Alofa relies on speed and sidesteps, Nadolo – who has chalked up in excessive of 100 metres in his last five outings - is a dynamic powerhouse with the ability to break through numerous defenders. Alternatively he will be more than happy to simply carry tacklers over the line with him.  
Michael Hooper v Richie McCaw
Apprentice v master of the art. At the age of 22 Hooper has already graduated to become the youngest captain of the Wallabies, while 127-cap All Black McCaw remains one of the most revered back rowers in world rugby. Neither will give their adversary an inch and both will do their upmost – often flirting with danger – to ensure their side is given the best platform to build from.
After enjoying a breakthrough season with the Brumbies in 2012 – collecting Brumbies Best Forward and Australian Rookie of the Year accolades – Hooper made the switch to the Waratahs and played every match of the 2013 Super Rugby campaign, earning the Australian Player of the Year award for his efforts. Renowned for his relentless work-rate and precision tackling ability, while being lethal in the loose, Hooper is rapidly becoming the definition of leading from the front.
As Hooper's meteoric rise to prominence continues, squaring off with the most uncompromising forwards to have played the game will provide a thorough test for the new kid on the block. McCaw remains one of the most influential All Blacks and is consistently on hand to clean out rucks in order to secure quick ball for the Crusaders backline. The effervescent openside flanker continually flirts with the boundaries of legality and has the ability to thwart opposing attacks single-handedly.  
Benn Robinson v Owen Franks
Should this final turn into a tight affair – which many expect it could – the platform provided by a successful set-piece may indeed prove to be the fine margin between success and failure. All Black prop Franks will assert pressure on Robinson from the off and the Wallaby must be on guard to ensure the Waratahs pack is not left on the back foot.
Much of the 'Tahs success to date has come virtue of flying starts, but failing to get off the mark early will see emphasis quickly switch to scrummaging. Against the Brumbies in last weekend's semi-final the Waratahs pack found themselves under significant pressure before Robinson wrestled them back into control, but such time to grow into the match is seldom offered up by the Crusaders.
Much like the irrepressible back row of McCaw, Matt Todd and Kieran Read which stands behind him, Franks will take no prisoners at scrum time and the Waratahs can rest assured they will be under the cosh from the off should they lack discipline. The Waratahs may forge success from fast-paced starts, but the Crusaders will be eager to build on the solid foundations of a full-frontal onslaught.  
Super Rugby

Fri 22nd May - Overall Group

Chiefs

34 - 20

Bulls

Reds

14 - 21

Sharks

Sat 23rd May - Overall Group

Blues

5 - 29

Hurricanes

Waratahs

32 - 22

Crusaders

Western Force

3 - 23

Highlanders

Cheetahs

17 - 40

Lions

Stormers

31 - 15

Melbourne Rebels

Fri 29th May - Overall Group

Crusaders

0 - 0

Hurricanes

Brumbies

0 - 0

Bulls

Sharks

0 - 0

Melbourne Rebels

Sat 30th May - Overall Group

Highlanders

0 - 0

Chiefs

Western Force

0 - 0

Reds

Stormers

0 - 0

Cheetahs

Lions

0 - 0

Waratahs

Fri 5th Jun - Overall Group

Hurricanes

0 - 0

Highlanders

Western Force

0 - 0

Brumbies

Sat 6th Jun - Overall Group

Melbourne Rebels

0 - 0

Bulls

Blues

0 - 0

Crusaders

Reds

0 - 0

Chiefs

Cheetahs

0 - 0

Waratahs

Stormers

0 - 0

Lions

Fri 12th Jun - Overall Group

Blues

0 - 0

Highlanders

Melbourne Rebels

0 - 0

Western Force

Sat 13th Jun - Overall Group

Brumbies

0 - 0

Crusaders

Chiefs

0 - 0

Hurricanes

Waratahs

0 - 0

Reds

Bulls

0 - 0

Cheetahs

Sharks

0 - 0

Stormers
Related
Also See
Super Rugby 2014 final

Waratahs clinched their maiden Super Rugby title with a 33-32 victory over seven-time champions Crusaders in Sydney.

Sky Sports bring you a selection of the best images from the 2014 Super Rugby final in Sydney.

Waratahs bid for a maiden Super Rugby title on Saturday, but seven-time champions the Crusaders stand in their way.