Amlin Challenge Cup Pool 3: Newcastle Falcons v Bucharest Wolves preview
Last Updated: 16/01/14 9:39pm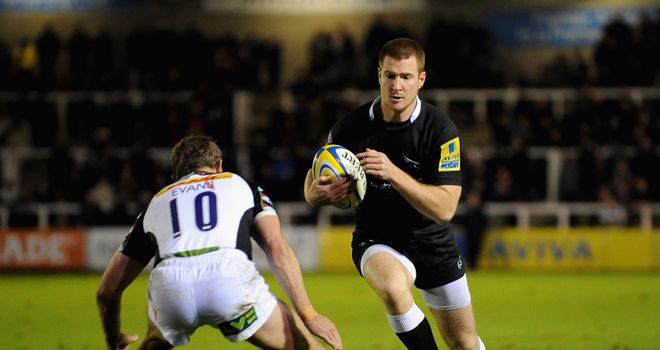 Rory Clegg: starting chance at fly-half for Newcastle Falcons
Newcastle Falcons have named a much-changed team for Thursday's Amlin Challenge Cup fixture with Bucharest Wolves at Kingston Park.
The Falcons' hopes of a quarter-final place were badly damaged by last week's defeat to Brive, who will advance at the English side's expense from Pool 3 if they beat Calvisano at home in their final game.
Chris Pilgrim and Rory Clegg form an all-new half-back pairing among nine alterations to the Falcons' starting XV.
Noah Cato comes in at full-back and Alex Crockett at outside centre, while in the pack there are starts for hooker George McGuigan, tighthead prop Oliver Tomaszczyk, lock Fraser McKenzie and back-row pair Andy Saull and Mark Wilson.
Head coach Peter Russell told Newcastle's official website: "We came back from Bucharest with bumps and bruises earlier in the season, and this time round I'm expecting another physical battle.
"We just need to play our own game, relax and enjoy ourselves. I think all of our processes that we've been working on have been spot on, and looking back at the past couple of weeks we've prepared very well and this game is all about getting back out there and enjoying it."
Newcastle Falcons: 15 Cato, 14 Catterick, 13 Crockett, 12 Fitzpatrick, 11 Shortland, 10 Clegg, 9 Pilgrim; 1 Vickers, 2 McGuigan, 3 Tomaszczyk, 4 McKenzie, 5 MacLeod, 6 Mark Wilson, 7 Saull, 8 York (capt)
Replacements: 16 Lawson, 17 Hallam, 18 Scott Wilson, 19 Tomes, 20 Welch, 21 Fury, 22 Godman, 23 Powell
Bucharest Wolves: 15 Conache, 14 Ionita, 13 Kinikinilau, 12 Vlaicu, 11 Dumitru, 10 Calafeteanu, 9 Surugiu; 1 Tamba, 2 Capatana, 3 Badalicescu, 4 Bucurescu, 5 Popirlan, 6 Lucaci, 7 Mitu, 8 Burcea (capt)
Replacements: 16 Bardasu, 17 Pristavita, 18 Tarus, 19 Ion, 20 Ianus, 21 Caplescu, 22 Wiringi, 23 Gal
Related
Amlin Challenge Cup week six 2013/14

Wasps scored 10 tries on their way to a 64-17 victory over Viadana to finish top of Amlin Challenge Cup Pool 4.

Worcester won for just the second time this season as they beat Oyonnax 20-13 in Amlin Challenge Cup Pool One.

Grenoble claimed a bonus-point 36-14 win over Bayonne in Friday's Amlin Challenge Cup Pool Four all-French affair.