Top 14 final: Toulon eye historic double
Last Updated: 31/05/13 1:58pm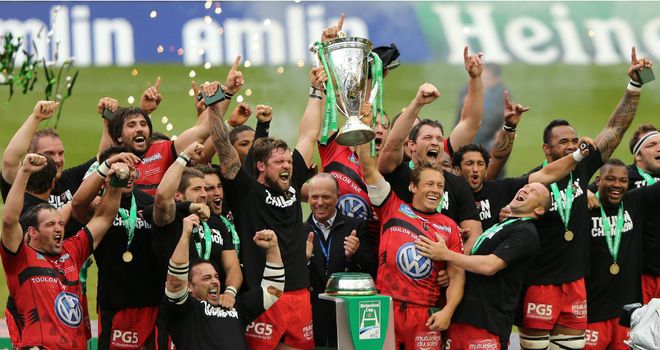 Toulon: already champions of Europe
Toulon stand on the verge of an historic Euro-French double as they face Castres in the Top 14 final at the Stade de France on Saturday.
League leaders for a large part of the French season and clinical winners over Clermont in the Heineken Cup final a fortnight ago, this season has finally seen owner Mourad Boudjellal's mammoth investment in the club pay off.
In the past, European success has been known to blunt the ambition of sides facing domestic finals, but Toulon coach Bernard Laporte insists their first silverware in 21 years has done nothing to reduce his players' determination to add a second trophy to their haul this term.
Indeed, Toulon are the overwhelming favourites as they aim to become the first French team since Toulouse in the inaugural European Cup season to complete the double.
Yet former France coach Laporte insists his side won't be taking Castres lightly as their shock win over Clermont last week bears testament to their capacity to create an upset.
"I see the group evolving as it's always evolved, with a lot of humility, a lot of seriousness and a lot of camaraderie," said Laporte. "And that's not a word that's just bandied about, these guys are buddies.
"It's obvious, I've never felt otherwise, apart from once or twice, such as at Bordeaux (when Toulon were thrashed 41-0 by the minnows in February).
"The rest of the time, when they had to win games, I've always felt this desire to give everything for each other. There are no morons in this team."
However, despite his insistence that Toulon will be have complete concentration in Paris, Laporte could not deny that the southern club have already attained their major objective for the season - a first ever European title.
Asked if it was more important to win the Top 14 title for the first time since 1992, Laporte found the idea laughable.
"I don't think they (Toulon) have any weak points but, as we often say, anything can happen in a one-off match."
Laurent Labit
"It would be ridiculous to say that. There is an order of things. When you are European champions, you are champions of ... Europe!" he said.
"But then, culturally... When I was born there was only the Bouclier de Brennus but I'm not convinced that for the foreigners who come here that they've got that culture."
Achievement
While foreign players may dream more of European glory than domestic success, for Castres, winning any trophy would be an achievement in itself.
Although they succeeded Toulon as French champions in 1993, thus matching their rivals' achievement of three French crowns, they do not have the same financial backing as Toulon.
So much so that coaching team of Laurent Labit and Laurent Travers have been tempted away by big-spending Parisians Racing Metro for next season.
Yet Labit says that Castres can upset the applecart in their last match in charge.
"I don't think they (Toulon) have any weak points but, as we often say, anything can happen in a one-off match," said Labit.
"We have to replicate the match we produced last week (against Clermont) in the strategy we want to adopt, in our commitment, in our spirit, and hope that Toulon play a little less well given it will be a third top level match in a row without changing around their team much."
Since their shock 25-9 success against Clermont, Labit and Travers have been working on ensuring their players don't rest on their laurels thinking they've already over-achieved.
"We were attentive to that to make sure our season didn't end last weekend. It's wonderful to beat Clermont but we didn't want our players to start celebrating," said Labit.
Castres' improvement under their coaching duo has been incremental, reaching the quarter-finals two and three years ago, graduating to the semi-finals last season and now reaching the showcase finale in the current campaign.
Toulon were in the final a year ago where they came up short against Toulouse who Laporte's men outclassed in the semi-finals this time around.