Top 14 wrap: Toulon crush Biarritz
Last Updated: 10/03/13 10:34am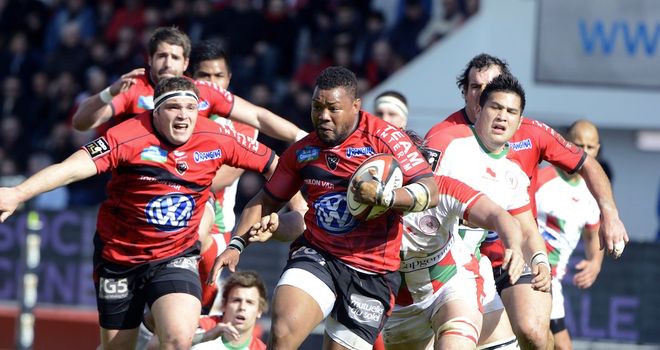 Rampant: Steffon Armitage
Toulon ran in six tries in a resounding 50-15 thumping of Biarritz at the Stade Mayol in the Top 14 on Saturday.
Toulouse edged out an excellent Bordeaux performance with a 33-32 victory at the Stade Toulousain, a 68th minute penalty from Lionel Beauxis setting the two sides apart.
Stade Français were comfortable winners over struggling Mont-de-Marsan, whilst Bayonne won away on the road against Agen.
Clermont racked up a crucial try bonus-point win over Castres to close the gap between themselves and Toulon at the top of the table to just two points.
Rugby Club Toulonnais 50-15 Biarritz Olympique
Stade Felix Mayol, Toulon
A try from Bakkies Botha after just six minutes set the tone for Toulon's victory over Biarritz at the Stade Mayol, with the Top 14 leaders extending their gap at the top of the table to seven points with Clermont performing later on.
Biarritz reacted swiftly with a try from Benôit Baby but were unable to respond in the second half, with Barraque only able to add a penalty in reply to tries from Nick Kennedy, Rudi Wulf and veteran hooker Sebastian Bruno.
Matt Giteau was one of the home side's try scorers but was also forced to depart after the interval due to injury.
Former England fly-half Jonny Wilkinson contributed heavily with the boot - with 22 points in total.
Stade Toulousain 33-32 Union Bordeaux-Bègles
Stade Ernest Wallon, Toulouse
A tense finish left Toulouse clinging on to their slender one-point lead against Bordeaux, securing third spot in the Top 14 with the 33-32 win.
Bordeaux made their intentions clear with the game's first from Blair Connor after three minutes. William Servat responded for the hosts before Heini Adams put the visitors back in front.
Yves Donguy's try before the interval gave Toulouse the lead and two penalties from Beauxis at the start of the second-half opened up a 24-15 lead.
Connor was prominent again for Bordeaux in setting up the try for Delboulbès, with Clarkin then snatching the bonus point to give the visitors the lead.
Luke McAlister and Nicolas Sanchez then exchanged penalties before Beauxis struck with the winning kick, although Sanchez could have won the match with a late drop goal attempt which went wide to the left.
SU Agen 20-30 Aviron Bayonnais
Stade Armandie, Agen
Two tries from full-back Scott Spedding set Bayonne on their way to a 30-20 away win against struggling Agen at the Stade Armandie.
Guillaume Rouet also crossed for the visitors in the first half as the visitors moved up to 41 points in the Top 14.
Agen racked up tries from Jean Monribot and Remi Vaquin in each half but ended up on the wrong side of the scoreboard, leaving them four points adrift of safety in 13th place.USA Perpignan 20-18 FC Grenoble
Stade Aimé Giral, Perpignan
Perpignan held off a late Grenoble rally to squeeze out a 20-18 victory and draw level on points with Montpellier in the race for the sixth and final play-off spot.
Former Gloucester number eight Luke Narraway played an influential role in creating both of the home sides tries for Daniel Leo and Sione Piukala.
Nicolas Laharrague did his best to steal the win for Grenoble late on, but his long-range drop goal attempt missed the posts.
The scorers:
For Perpignan:
Tries: Leo, Puikala
Cons: Mélé 2,
Pens: Mélé 2
For Grenoble:
Tries: Jaouher, Coetzee
Cons: Courrent
Pens: Courrent 2
Perpignan: 15 Gavin Hume, 14 Joffrey Michel, 13 David Marty, 12 Sione Piukala, 11 Adrien Plante, 10 David Mele, 9 Florian Cazenave, 8 Henry Tuilagi, 7 Bertrand Guiry, 6 Luke Narraway, 5 Romain Taofifenua, 4 Daniel Leo, 3 Kisi Pulu, 2 Romain Terrain, 1 Sona Taumalolo.
Replacements: 16 Maxime Delonca, 17 Sebastien Taofifenua, 18 Guillaume Vilaceca, 19 Alasdair Strokosch, 20 Gilles Bosch, 21 Lifeimi Mafi, 22 Armand Batlle, 23 Jerome Schuster.
Grenoble: 15 Fabien Gengenbacher, 14 Florian Ninard, 13 Rida Jaouher, 12 Rudolf Coetzee, 11 Viliame Waqaseduadua, 10 Blair Stewart, 9 Valentin Courrent, 8 Shaun Sowerby, 7 Roland Bernard, 6 Jonathan Best, 5 Benjamin Hand, 4 Andrew Farley, 3 Dayna Edwards, 2 Anthony Hegarty, 1 Romain David.
Replacements: 16 Kenan Mutapcic, 17 Vincent Campo Castillo, 18 Fabien Alexandre, 19 Flavien Nouhaillaguet, 20 Nicolas Laharrague, 21 Nigel Hunt, 22 Clement Darbo, 23 Albertus Buckle.
---
Stade Français Paris 42-14 Stade Montois
Stade Charléty, Paris
A dominant performance saw Stade Français run in six tries at home against basement side Mont-de-Marsan, who are now 12 points adrift at the bottom of the Top 14.
Winger Djibril Camara ran in two tries as Stade were rarely troubled, with substitute Rémy Bonfils crossing for the sixth and final score in the 80th minute, securing Stade's 10th league victory of the season.
The scorers:
For Stade Français:
Tries: Fillol, Camara 2, Rodriguez, Dupuy, Bonfils
Cons: Porical 2, Plisson,
Pens: Porical 2
For Mont-de-Marsan:
Try: Durquet
Pens: Vignau Tuquet 2, Arrayet
Stade Français: 15 Jerome Porical, 14 Waisea Vuidravuwalu, 13 Jeremy Sinzelle, 12 Martin Rodriguez, 11 Djibril Camara, 10 Jules Plisson, 9 Jerome Fillol, 8 David Lyons, 7 Scott Lavalla, 6 Olivier Missoup, 5 Gerhard Mostert, 4 Alexandre Flanquart, 3 Rabah Slimani, 2 Laurent Sempere, 1 Stanley Wright.
Replacements: 16 Remi Bonfils, 17 David Attoub, 18 Anton Van Zyl, 19 Pierre Rabadan, 20 Julien Dupuy, 21 Felipe Contepomi, 22 Julien Arias, 23 Aled De Malmanche.
Mont-de-Marsan: 15 Yohann Durquet, 14 Nicholas Price, 13 Jean Baptiste Dubie, 12 Baptiste Chedal, 11 William Ryder, 10 Antoine Vignau Tuquet, 9 Bernard Arrayet, 8 Haisini Taulanga, 7 Yann Brethous, 6 Julien Tastet, 5 Philipus Liebenberg, 4 Sebastian De Chaves, 3 Tevita Mailau, 2 Pieter Grobler, 1 Julian Fiorini.
Replacements: 16 Julien Janaudy, 17 Pierre Correia, 18 Berend Botha, 19 Johannes Britz, 20 Simon Lucu, 21 Seru Rabeni, 22 Jean Marc Mazzonetto, 23 Sebastien Ormaechea.
---
ASM Clermont Auvergne 37-10 Castres Olympique
Parc des Sports Marcel Michelin, Clermont Ferrand
Tries from Sitiveni Sivivatu, Gerard Vosloo, a Penalty Try and the crucial bonus-point score from Napolini Nalaga handed Clermont a comfortable win over top four rivals Castres at the Stade Marcel Michelin.
Ill-discipline saw Jamie Cudmore sin-binned for the hosts, whilst Seremaia Bai and Rory Kockott also spent time on the sidelines for the visitors.
Romain Marital grabbed a consolation score for the visitors late on but Castres were very much second best, with defeat keeping them level on points with Racing Métro.
Clermont's try bonus-point win moves them just two points behind Toulon at the top of the table.
The scorers:
For Clermont:
Tries: Sivivatu, Vosloo, Penalty, Nalaga
Cons: James 3, Skrela
Pens: James 3
Yellow Cards: Cudmore, Skrela
For Castres:
Try: Marital
Cons: Kirkpatrick
Pens: Kockott
Yellow Cards: Bai, Kockott, Lamerat
Clermont:15 Lee Byrne, 14 Sitiveni Sivivatu, 13 Regan King, 12 Benson Stanley, 11 Naipolioni Nalaga, 10 Brock James, 9 Ludovic Radosavljevic, 8 Damien Chouly, 7 Gerhard Vosloo, 6 Julien Bonnaire, 5 Loic Jacquet, 4 Jamie Cudmore, 3 Daniel Kotze, 2 Ti'i Paulo, 1 Raphael Chaume.
Replacements: 16 Benoit Cabello, 17 Clement Ric, 18 Julien Pierre, 19 Elvis Vermeulen, 20 Kevin Senio, 21 David Skrela, 22 Jean Marcellin Buttin, 23 Adrien Oleon.
Castres: 15 Romain Martial, 14 Marcel Garvey, 13 Remi Lamerat, 12 Seremaia Bai, 11 Marc Andreu , 10 Remi Tales, 9 Rory Kockott, 8 Jan de Bruin Bornman, 7 Yannick Caballero, 6 Piula Faasalele, 5 Rodrigo Capo Ortega, 4 Matthias Rolland, 3 Karena Wihongi, 2 Brice Mach, 1 Saimone Taumoepeau.
Replacements: 16 Marc Antoine Rallier, 17 Michael Coetzee, 18 Benjamin Desroche, 19 Ibrahim Diarra, 20 Thierry Lacrampe, 21 Daniel Kirkpatrick, 22 Romain Cabannes, 23 Anton Peikrishvili.
Top 14

Sat 23rd May

Fri 29th May - Quarter Finals

Sat 30th May - Quarter Finals
Related