LV= Cup: Quins beat Ospreys and will host Bath
Last Updated: 03/02/13 8:18pm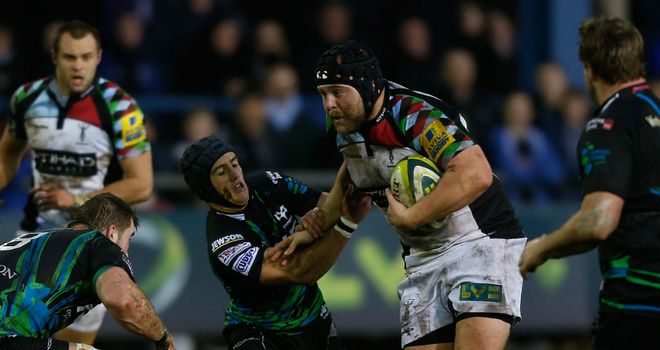 Mark Lambert on the charge for Harlequins
Unbeaten Harlequins booked a home semi-final clash against Bath in the LV= Cup with a 16-12 victory over Ospreys at the Brewery Field.
In difficult conditions Quins, who have won their last 10 matches in all competitions, were indebted to centre Matt Hopper for scoring the only try of the contest while Ben Botica kicked 11 points.
But it was Matthew Morgan who broke the early deadlock with an eighth-minute penalty for the hosts, before Botica's reply levelled the scores at 3-3 on 13 minutes.
Botica was on target again in the 16th minute after the Ospreys were penalised for collapsing a scrum.
It looked as if Harlequins were going to score the first try when wing Sam Smith kicked a ball over the line, but he ran out of room in a small dead ball area.
In the end that did not matter because Hopper stretched over the line after good work by Guest. Botica added the extras as Quins led 13-3 on the half-hour mark.
A good scrum earned the Ospreys a penalty which Morgan converted from 40 metres out to cut the Quins lead to seven points.
And some more good work going through the phases in the Quins 22 saw them get another penalty, which Morgan kicked in the final minute of the half.
Ospreys won a penalty from a scrum after 55 minutes, allowing Morgan to convert his fourth kick to cut the visitors' lead to a single point.
But Botica kicked his third penalty and although three minutes from time Morgan had a shot to win the game, it was against the wind, and his 45-metre effort fell well short.
If Morgan had scored it would have meant Quins would have had to visit Saracens in the last four.