Top 14 round-up
Last Updated: 11/11/12 8:36am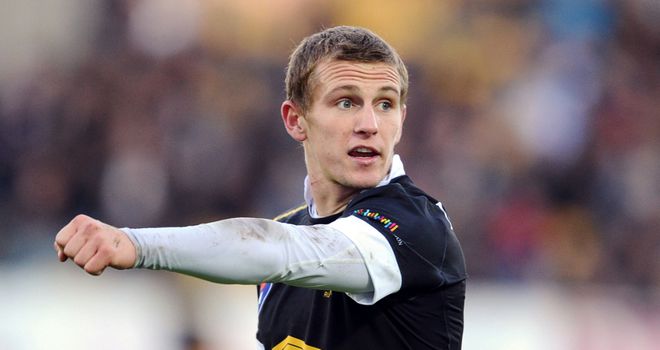 First win of the season: Mont-de-Marsan
Mont-de-Marsan caused the biggest upset of the Top 14 season by beating Racing Metro in Paris on Saturday while Stade Français downed Agen.
Biarritz battled past Perpignan in a try-less wrestling match while Castres won on the road to Bordeaux Begles.
Elsewhere, Grenoble maintained their unbeaten home record against Bayonne.
Stade Français Paris 20-13 SU Agen
Stade Charléty, Paris
Not much fun to watch in wet condition in Paris, but Stade Français played the better tactical game in an afternoon dominated by kicking.
Agen win Saimoni Vaka scored in the first minute, but the hosts moved in front early in the second half with Julien Arias's try proving decisive.
Racing Métro 16-17 Stade Montois
Stade Yves Du Manoir - Colombes (Paris)
Mont-de-Marsan claim their first win of the season thanks largely to the boot of Antoine Vignau-Tuquet, who kicked the winning penalty in the dying minutes.
Racing led 13-6 at the break with Olly Barkley scoring all the hosts' points but two yellow cards in the second half allowed the visitors to get back into contention.
The result is Racing's fifth consecutive loss.
FC Grenoble 9-6 Aviron Bayonnais
Stade Lesdiguières, Grenoble
Grenoble maintain their unbeaten record at home and their place in the top six. Bayonne head home with a deserved losing bonus point.
Union Bordeaux-Bègles 13-16 Castres Olympique
Stade Jacques Chaban-Delmas, Bordeaux
A terrible result for UBB, who headed into this clash under massive pressure, as it leaves them stuck in the relegation zone.
In driving rain, the scores were locked at 10-10 at the interval and 13-13 in the 66th minute.
But Rory Kockott landed the winning penalty in the last minute after the home scrum wilted under pressure.
Biarritz Olympique 15-3 USA Perpignan
Parc des Sports d'Aguilera, Biarritz
Biarritz breathe again as the Basques end a six-game losing streak thanks to the return of Dimitri Yachvili.
BO led 12-3 at half time in soggy conditions and continued to win the collisions to grind out a much-needed win. Biarritz: 15 Iain Balshaw, 14 Takudzwa Ngwenya, 13 Marcelo Bosch, 12 Damien Traille, 11 Aled Brew, 10 Julien Peyrelongue, 9 Dimitri Yachvili, 8 Raphael Lakafia, 7 Benoit Guyot, 6 Magnus Lund, 5 Pelu ian Taele, 4 Jerome Thion, 3 Eugene Van staden, 2 Arnaud Heguy, 1 Fabien Barcella.
Replacements:16 Benoit August, 17 Johannes Blaauw, 18 Thibault Dubarry, 19 Tanguy Molcard, 20 Yann Lesgourgues, 21 Jean pascal Barraque, 22 Benoit Baby, 23 Francisco Gomez Kodela.
Perpignan: 15 Richard Haughton, 14 Farid Sid, 13 David Marty, 12 Lifeimi Mafi, 11 Adrien Plante, 10 Gavin Hume, 9 David Mele, 8 Henri Tuilagi, 7 Luke Narraway, 6 Bertrand Guiry, 5 Romain Taofifenua, 4 Luke Charteris, 3 Jeremy Castex, 2 Romain Terrain, 1 Jerome Schuster
Replacements:16 Guilhem Guirado, 17 Sebastien Taofifenua, 18 Guillaume Vilaceca, 19 Romain Bezian, 20 Florian Cazenave, 21 Gilles Bosch, 22 Armand Batlle, 23 Kisi Pulu.