No cruise for Toulouse
Giteau and Wilkinson help Toulon edge past Racing Metro
Last Updated: 26/08/12 8:08am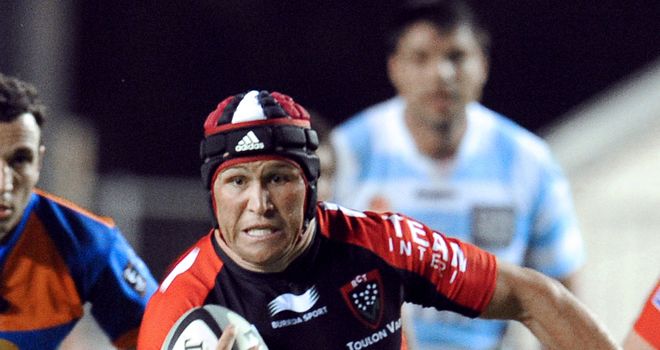 Matt Giteau: scored two tries for Toulon in their narrow win over Racing Metro
Toulouse were forced to overturn a half-time deficit to get the better of minnows Mont-de-Marsan while Clermont were beaten in Montpellier.
Bayonne failed to score a try but eight penalties were enough for their first win of the season against Stade Francais.
Castres steamrolled past newcomers Grenoble but missed out on a bonus point after conceding a try after the final hooter.
Toulon edged past Racing Metro in a thrilling clash on the outskirts of Paris. before Biarritz finished off the weekend by winning in Agen to remain top of the standings after two rounds.
Aviron Bayonnais 24-11 Stade Français Paris
Bayonne have yet to score a try this season but nevertheless climb to fifth place in the standings after winning 24-11 at home against Stade Francais.
They led 15-3 at half time thanks to five penalties from South African fly-half Jacques-Louis Potgeiter.
A try from skipper Sergio Parisse soon after the restart got the Parisians back in the hunt but Potgeiter kept the scoreboard ticking for the Basque hosts.
Castres Olympique 30-13 FC Grenoble
Castres looked to have a bonus point in the bag until they threw it away in the dying seconds against Grenoble.
Castres lef 16-6 at half time thanks to a penalty try earned by the hosts' scrum and nine points from the boot of scrum-half Rory Kockott.
The hosts domination up front led to another penalty try at scrum time but lock Cyril Veyret scored in injury time to deny CO a bonus point, taking advantage of Pedrie Wannenburg's absence after the South African managed to get sent off within 20 minutes of coming on.
Stade Toulousain 37-22 Stade Montois
As predicted, Toulouse got their bonus-point win but it didn't come easily as the hosts needed a massive final quarter to claim victory against the club with the smallest budget in the Top 14.
Indeed, the visitors were in front with 20 minutes to play before the wheels came off in spectacular fashion.
Toulouse raced to a 14-6 lead thanks to early tries from prop Jean Baptiste Poux and wing Vincent but Mont-de Marsan led 19-17 at half time thanks to a try from centre Jean Paptiste Dubie and four penalties from fly-half Thibault Duvallet.
Duvallet extended the lead after the break with drop from 40m out but Lionel Beauxis replied on the hour mark.
From there it was downhill for les Montois, who coughed up three yellow cards and two tries as the Toulouse bench came to the rescue.
Virgile Lacombe crashed over at the back of a maul before Louis Picamoles muscled his way over for the bonus point.
Toulon 23-21 Racing Metro
Matt Giteau scored two tries and Jonny Wilkinson kicked a late winning penalty as Toulon edged Racing Metro 23-21 in Paris on Saturday.
Wilkinson found the target from the kicking tee for the fifth time in the 76th minute to hand RCT their second win on the road in as many weeks after the Toulon's star-studded scrum earned a crucial penalty.
The result at Stade Yves Du Manoir, combined with last week's win in Perpignan, provisionally moves Toulon to the summit of the Top 14 standings.
This week's effort was a marked step up in quality from Bernard Laporte's troops however, suggesting they truly are title contenders.
Victory came at a cost though as Chris Masoe left the field with a torn ear in the first half before Alexis Palisson was knocked out cold and departed on a stretcher in the closing minutes.
Montpellier Hérault Rugby 13-8 ASM Clermont Auvergne
Clermont bagged a losing bonus point with the last kick of the game as Montpellier claimed their first win of the season.Yellow cards: Pic, Tastet, Baleinadogo (all Mont-de-Marsan
Toulouse:15 Yoann Huget, 14 Vincent Clerc, 13 Yannick Jauzion, 12 Clement Poitrenaud, 11 Timoci Matanavou, 10 Luke Mcalister, 9 Jean marc Doussain, 8 Edwin Maka, 7 Louis Picamoles, 6 Yannick Nyanga, 5 Russlan Boukerou, 4 Yoann Maestri, 3 Antoine Guillamon, 2 Christopher Tolofua, 1 Jean Baptiste Poux.
Replacements: 16 Virgile Lacombe, 17 Gurthro Steenkamp, 18 Gregory Lamboley, 19 Sylvain Nicolas, 20 Luke Burgess , 21 Lionel Beauxis , 22 Gael Fickou , 23 Census Johnston ,
Mont-de-Marsan:15 Yohann Durquet, 14 Nicholas Price, 13 Jean Paptiste Dubie, 12 Seru Rabeni, 11 William Ryder, 10 Thibault Duvallet, 9 Laurent Magnaval, 8 Alexandre Ricaud, 7 Yann Brethous, 6 Julien Tastet, 5 Berend Botha, 4 Wame Lewaravu, 3 Tevita Mailau, 2 Pieter Grobler, 1 Julian Fiorini.
Replacements: 16 Joan Caudullo, 17 Alexandre Menini, 18 Scott Murray, 19 Vincent Farre, 20 Arnaud Pic, 21 Daniele Baleinadogo, 22 Jean baptiste Claverie, 23 Sebastien Ormaechea
---
SU Agen 19-25 Biarritz Olympique
Stade Armandie, Agen
Biarritz finish the weekend at the summit of the standing as they backed up victory at home last week with a solid win on the road.
Agen pick up their second losing bonus point after trailing 13-6 at half time.
The scorers:
For Agen:
Try: Bastien
Cons: Barnard
Pens: Barnard 5
For Biarritz:
Try: Ngwenya
Con: Barraque
Pens: Barraque 5
Drop: Traille
Yellow cards: Synaeghel (Biarritz); Cabarry (Agen)
Agen:15 Silvere Tian, 14 Belisario Agulla, 13 Vincent Roux, 12 Senio junior Pelesasa, 11 Romain Edmond samuel, 10 Conrad Barnard, 9 Mathieu Loree, 8 Opeti Fonua, 7 Remi Vaquin, 6 Jean Monribot, 5 William Demotte, 4 Esteban Lozada, 3 Jonathan Garcia, 3 Jalil Narjissi, 1 Bernard N nomo.
Replacements: 16 Semisi Telefoni, 17 Laurent Cabarry, 18 Leo Bastien, 19 Ueleni Fono, 20 Antoine Erbani , 21 Sylvain Dupuy , 22 Jamie peter Robinson , 23 Euan Murray ,
Biarritz: 15 Iain Balshaw, 14 Takudzwa Ngwenya, 13 Charles Gimenez, 12 Damien Traille, 11 Aled Brew, 10 Jean pascal Barraque, 9 Yann Lesgourgues, 8 Raphael Lakafia, 7 Wenceslas Lauret, 6 Magnus Lund, 5 Pelu ian Taele, 4 Jerome Thion, 3 Francisco Gomez Kodela, 2 Arnaud Heguy, 1 Thomas Synaeghel
Replacements: 16 Jean philippe Genevois, 17 Fabien Barcella, 18 Erik Lund, 19 Thibault Dubarry, 20 Julien Peyrelongue, 21 Benoit Baby, 22 Seremaia nakala Burotu, 23 Eugene van Staden.