Biarritz breeze into final
Brive blanked in Amlin Challenge Cup semi-final
Last Updated: 28/04/12 5:59pm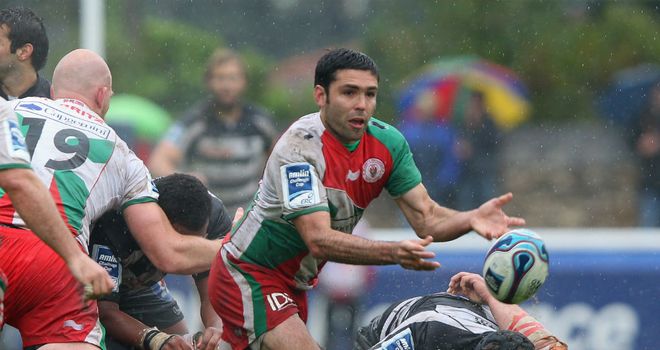 Dimitri Yachvili: 14 points
Biarritz cruised into the final of the Amlin Challenge Cup after completing a thoroughly one-sided 19-0 victory over Brive at the Stade Aguilera.
Dimitri Yachvili kicked 14 points and Damien Traille crossed for the game's only try as Biarritz reached their third European final in six years.
They will go head-to-head with Toulon for the trophy on May 18 after their fellow Top 14 side claimed a 32-29 win over Stade Francais on Friday.
Yachvili missed an early penalty attempt but was on target with his next two to put Biarritz 6-0 up after the opening 20 minutes, with Riaan Swanepoel missing for Brive in the meantime.
Good work from Marcelo Bosch then sent Traille over for a score which was confirmed after consultation with the television match official. Fellow France international Yachvili added the extras to make it 13-0 at half-time.
Brive had another chance to get themselves on the board in the 48th minute but Swanepoel again could not manage to convert.
Benoit Baby and Iain Balshaw combined to earn Yachvili his third penalty in the 67th minute, and the scrum-half slotted another three points through the posts five minutes later after a fracas.
That was the end of the scoring, with an already frustrating afternoon for Brive finishing on a further sour note when Alexandre Barozzi was sent off in the last minute.