Sarries secure semi spot
But losing bonus point boosts Falcons' survival hopes
Last Updated: 20/04/12 11:13pm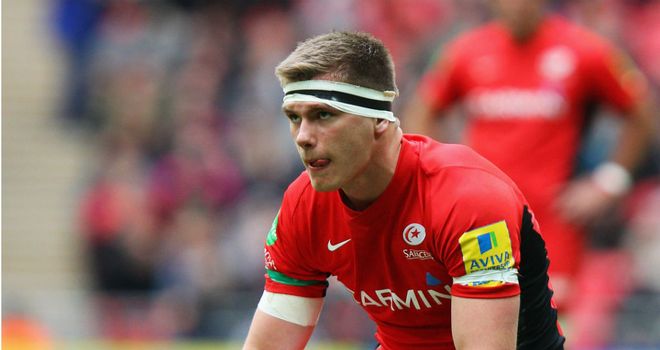 Owen Farrell kicked three penalties for Saracens
Saracens clinched a place in the Aviva Premiership semi-finals after prevailing 9-3 in a low-scoring encounter with Newcastle at Kingston Park.
Three penalties from the boot of Owen Farrell took Saracens into second place in the table, while Jimmy Gopperth's solitary strike gave the Falcons a crucial losing bonus point in front of a crowd of 8,011 - Newcastle's biggest of the season.
The Falcons squandered chances to win the game at the death and Saracens were hanging on but that bonus point cut the gap between Newcastle and Wasps to just three points - Wasps visit Bath on Saturday.
Saracens lost England centre Brad Barritt with a leg injury during the warm-up, with Farrell moving to number 12 and Charlie Hodgson coming in at fly-half.
Dominated
There was little to choose between the sides in the opening 10 minutes and not much between them at half-time, with Farrell landing just one of three kicks at goal for Saracens to lead 3-0.
But it was a half that Saracens dominated against some determined Newcastle tackling.
An offside in the 11th minute gave Farrell his first opportunity but he was short from 45 metres.
Hodgson kept up the pressure with a little dink through but the ball ran into touch and, although Newcastle did not clear it too well, Saracens then overthrew at the line-out and Newcastle were able to break out to the safety of the halfway line.
Saracens moved into the lead when Jon Golding failed to roll away in the tackle and Farrell slotted the penalty in the 18th minute.
Nick Stringer then broke down the blindside and kicked behind Alex Goode, but the full-back recovered brilliantly and cut back, evading three tackles and made it up to halfway to get his side out of trouble.
The referee made a big call in the 32nd minute, deciding Newcastle had wheeled the scrum, but Farrell hit the post with the penalty and Stringer cleared.
Frenetic
Another wheeled scrum gave Farrell the chance to make it 6-0 four minutes into the second half but it was full-back Greg Goosen's knock-on that put his pack under pressure.
Gopperth was then short with a penalty when the scrum went down but did make it 6-3 in the 53rd minute after a late hit by Will Fraser.
Farrell restored the six-point gap when he made it 9-3 in the 64th minute when the Newcastle scrum went down again.
But the hosts did have real chances in the final 10 minutes when Justin Melck was sin-binned, and in the dying minutes Newcastle hammered away.
After James Fitzpatrick nearly made it through, the last three minutes saw the Falcons spurn a kick at goal to go to the corner and that set up a frenetic finish which saw Saracens just keep Newcastle out.