Toulouse finish top
Play-offs: Toulon v Racing Métro; Castres v Montpellier
Last Updated: 12/05/12 9:32pm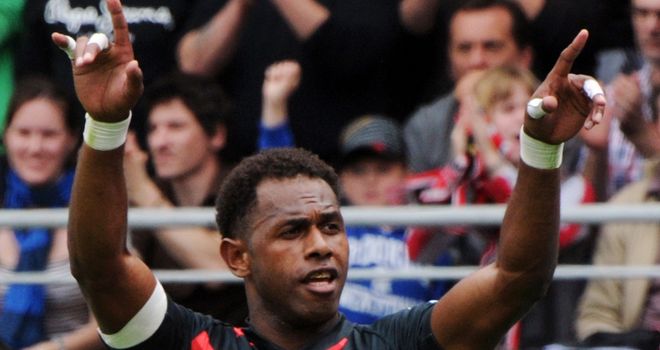 Timoci Matanavou: Hat-trick for Toulouse
Toulouse finished the Top 14 regular season at the summit of the standings thanks to victory over Montpellier on Saturday.
Clermont finished second, level on points, after running eight tries past Brive, whose relegation was confirmed.
Toulon won on the road to Lyon to book a home play-off against Racing Métro, who were edged at the death in Agen.
Castres narrowly beat Bayonne to secure the other home play-off against Montpellier.
Elsewhere, Biarritz warmed up for their Challenge Cup Final with victory over Stade Français while Perpignan finished with a wimper by losing to Bordeaux-Bègles.
Stade Toulousain 20-13 Montpellier HR
Luke McAlister created two of Timoci Matanavou's three tries as Toulouse got back to winning ways.
But Montpellier hled the ball for most of the first half and went into the changing rooms at 10-10 thanks to Timoci Nagusa's try.
The game was an open affair after both teams were reduced to 14 men early on following a mass brawl.
Matanavou's third try sealed victory for Toulouse but the hosts were pushed all they continually let Montpellier back into the game with too many handling errors.
ASM Clermont Auvergne 57-14 CA Brive Corrèze
No miracle then for Brive, who are sent to the ProD2.
Les Corréziens were ahead on the hour-hour mark thanks to two early tries, but once the Clermont machine had kicked into gear, it was one-way traffic.
Sitiveni Sivivatu and Wesley Fofana both grabbed two tries each as Clermont confirmed their status has favourites for the Top 14 crown.
Castres Olympique 31-29 Aviron Bayonnais
Castres were pushed all the way but booked their home play-off thanks to two tries from prop Saimone Taumoepeau and another from Yannick Forestier.
Bayonne came back from 23-12 down at the break get a bonus point and finish their difficult season on a high note and Sam Gerber intercepted to score in the final minute.
SU Agen 25-22 Racing-Métro 92

Racing secured their play-off berth (against Toulon) despite losing a tight battle.
Agen fly-half Conrad Barnard landed fourteen point to finish as the season's top points scorer.
But it was young replacement pivot Mathieu Lamoulie who stole the limelight, winning the game for the hosts with a 79th minute penalty.
Biarritz Olympique 16-5 Stade Français Paris
It was an emotional day in the Basque country as Stade Français front rowers Rodrigo Roncero and Olivier Milloud and former Parisian Sylvain Marconnet played their last games.
Biarritz led 13-0 at the break thanks - once again - to Damien Traille and Dimitri Yachvili.
Jerome Fillol set a great try for flank Pierre Rabadan but it wasn't enough to prevent the hosts from gaining momentum for next weekend's Challenge Cup Final.
Bad news for Italy was a serious knee injury to Sergio Parisse.
Lyon Olympique 5-29 RC Toulon
Jonny Wilkinson kicked 19 points as Toulon confirmed third place and booked a home play-off.
But Bernard Laporte must have been screaming blue murder at half time as Toulon only led 3-0 after a woeful first period.
Scrum-half Sébastien Tillous-Borde got the ball rolling with a try soon after the restart however as RCT made sure of the result.
Union Bordeaux-Bègles 37-29 USA Perpignan
With nothing but pride to play for, a free-flowing affair under the sun saw Bordeaux-Bègles end their season on a positive note.
USAP led 24-14 at the break but the hosts let loose in the final quarter to finish the season in eighth place (!), four points ahead of 2009 champions Perpignan.