Steyn boots Bulls to victory
Steyn kicks 22 of his side's points in win over Sharks
Last Updated: 22/05/11 1:16am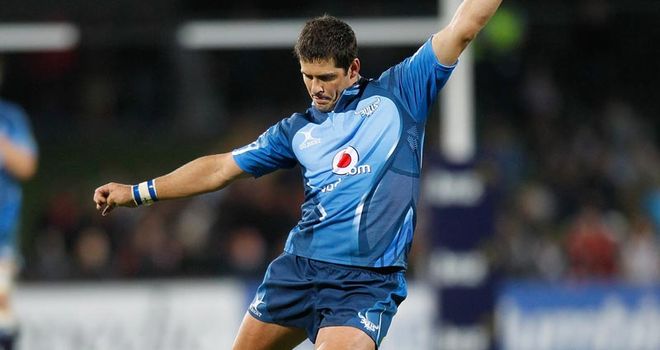 Steyn: On good form with the boot as the Bulls beat the Sharks to stay in contention for a Super 15 play-off place
The boot of Morne Steyn helped the Bulls beat the Sharks 32-23 to stay in contention for a Super 15 play-off place.
Steyn kicked five penalties, two conversions and a drop goal - giving him 22 of his side's points.
The visitors dominated the first half with early tries from Francois Hougaard and Bakkies Botha putting them in control.
Bismarck du Plessis and Adi Jacobs responded with tries after the break but the Bulls held off the Sharks fightback.
Steyn's first-minute penalty put gave the Bulls an early advantage, and when his kick for touch set up a line-out inside the Sharks' 25, Hougaard evaded a tackle to go over for the first try in the seventh minute.
Steyn added the extras, but moments later the Sharks' young fly-half Pat Lambie responded with a penalty to make it 10-3.
Another line-out led to another try for the Bulls with Botha going over for another converted score in the 14th minute.
A high Bulls penalty count was keeping the Sharks interested and Lambie nailed a second after 17 minutes to keep his side in touch, but Steyn responded three minutes later.
Stemming flow
The Sharks finally exerted a measure of control, at least stemming the flow of points, and they were aided when Botha was withdrawn with a blood injury.
But Steyn booted a drop goal seven minutes before the break to but his side 23-6 ahead.
The second half started in similar fashion to the first, with a Steyn penalty taking the Bulls' lead to 20 points.
But Du Plessis went over in the 53rd minute at the other end to give the Sharks their first try, with Lambie converting, then adding a penalty moments later.
A couple more penalties from Steyn failed to deter the Sharks as they sent waves of attack towards the line before Jacobs finally went over with six minutes to play.
Lambie converted but the Sharks could not conjure up another try-scoring opportunity and, when they were given a penalty - which would have earned them a bonus point - after the hooter, he could not make it count.