Bath v Sale: Teams
At Recreation Ground, Saturday September 25, kick-off 2.15pm
Last Updated: 25/09/10 11:33am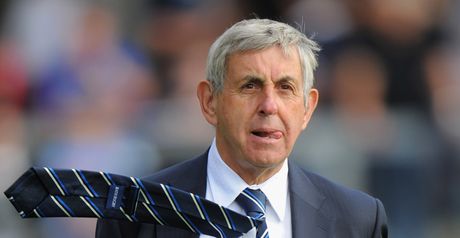 McGeechan: Looking to bounce back
Bath have set their sights on bouncing back from their opening defeat of the season when they face Sale on Saturday.
Bath slumped to a 33-10 defeat to Northampton last time out - but performance director Ian McGeechan has been impressed with the way the squad has reacted.
"We didn't execute well on Friday, and some of the decisions weren't the best, but at this time in the season, that kind of defeat can actually be beneficial to a side," McGeechan explained.
"It acts as a reminder, not just to keep going when the game seems lost, but also to figure out how to put ourselves in the position to win tight games, which could well be the case in both Europe and the Premiership this year.
"I think the reaction from the coaches has been very sensible this week. It's about being precise, working on what will make a difference.
"If you look at what has gone wrong as well as looking at what has gone right, and you are strong enough to do that, that is when you really move forward with real conviction. We want to build a strong, battling attitude within the side, so that we can win those one point battles, as well as those that are won by 10 or 15 points."
Strong
Bath have made one change for the clash with prop Duncan Bell starting ahead of David Wilson, while Nathan Catt comes on to the bench.
Sale have tweaked their line-up as they look to follow Northampton in toppling Bath.
Dwayne Peel, Karena Wihongi, Aston Croall and Lee Imiolek come in to the starting XV - with coach Mike Brewer expecting a tough battle upfront.
"Bath are a very strong side from the set-piece. They create a lot of damage if they get a lot of set-piece ball and if you give them space," said Brewer.
"If you don't close them down they are probably the best off-loading side in the Premiership with the likes of Hape, Abendanon and Barkley. So we need to put a powerful unit out on the park because, attacking-wise, Bath are potentially the best team in the Premiership."
Bath: 15 Nick Abendanon, 14 Matt Carraro, 13 Shontayne Hape, 12 Olly Barkley, 11 Tom Biggs, 10 Sam Vesty, 9 Michael Claassens, 1 David Barnes, 2 Pieter Dixon, 3 Duncan Bell, 4 Stuart Hooper, 5 Danny Grewcock, 6 Andy Beattie, 7 Lewis Moody, 8 Luke Watson (c)
Replacements: 16 Ross Batty, 17 Nathan Catt, 18 Mark Lilley, 19 Ben Skirving, 20 Josh Ovens, 21 Mark McMillan, 22 Ben Williams, 23 Jack Cuthbert
Sale Sharks: 15 Paul Williams, 14 Tom Brady, 13 Ben Cohen, 12 Kyle Tonetti, 11 Mark Cueto, 10 Nick Macleod, 9 Dwayne Peel, 8 Sisaro Koyamaibole, 7 David Seymour (capt), 6 Carl Fearns, 5 Wame Lewaravu, 4 Nic Rouse, 3 Karena Wihongi, 2 Aston Croall, 1 Andrew Sheridan.
Replacements: 16 Neil Briggs, 17 Lee Imiolek, 18 Jack Forster, 19 James Gaskell, 20 Kristian Ormsby, 21 Will Cliff, 22 Matty James, 23 Rob Miller.