Newcastle v L Irish: Teams
At Kingston Park, Sunday April 13, kick-off 3pm
Last Updated: 13/04/08 5:35pm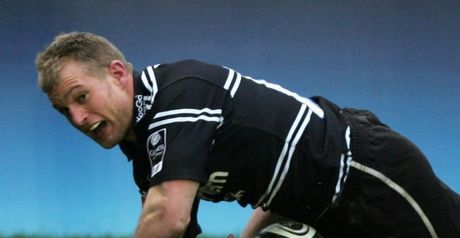 Noon: Out injured
Newcastle will look to upset the odds when they entertain London Irish at Kingston Park.
The Exiles have cut a swathe through Europe to reach the Heineken Cup semi-final, however the Falcons will be in no mood to let them have things their own way when they return to domestic action.
Falcons chief Steve Bates has made five changes to the side that beat Castres in the European Challenge Cup, with three of them coming in the pack.
David Wilson, Andy Long and Brent Wilson are named in the forwards, with Carl Hayman, Matt Thompson and Ben Woods missing out.
In the backs, an ankle injury to Jamie Noon and Toby Flood means Tom Dillon and Steve Jones start in the centres.
On the bench, 19-year-old scrum-half Micky Young could make his debut after impressing for the A team.
Bates said: "Tom Dillon put in a very strong performance in coming on for Jamie Noon against Castres so that was a pretty straightforward decision, and then Steve Jones has fared well at inside centre this season when he has been asked to play there.
"Toby Flood just had a slight ankle problem which has been bugging him all week, and in view of upcoming games we just deemed it prudent to give him some extra recovery time. Both he and Jamie Noon were very close to playing in this game, but we felt it just wasn't worth the risk.
"In the front row Carl Hayman has played pretty much 80 minutes in every game since he arrived in the autumn, and in Davey Wilson we have a ready-made replacement who is extremely talented and determined to get some game time.
"We have to be careful that we look after our players, but Davey is right up there in the pecking order for young English props, and it is only right that he gets his chance."
Determined
London Irish are determined to keep that winning feeling among their side as they prepare to face Newcastle.
Although the Exiles are into the last four of this season Heineken Cup, they still need to pick up as many points as possible in the league to ensure they play in the 2008-09 tournament.
"Having experienced the exceptional atmosphere of last Saturday's Heineken Cup quarter-final we're more determined than ever to ensure we qualify for next year's tournament," said London Irish director of rugby Brian Smith.
"With four Premiership games to play we believe we can secure a sufficiently high league position to be among the qualifiers.
"We need to retain the positive momentum of last week's good performance and maintain a winning culture as we go into these last games.
"Sunday's game is very important if we are to succeed in reaching our objective.
The Exiles have made six changes to the line-up with Shane Geraghty, Eoghan Hickey, Danie Coetzee, Tonga Lea'aetoa, James Hudson and Richard Thorpe all returning.
Newcastle: 15 Mathew Tait, 14 Tom May, 13 Tom Dillon, 12 Steve Jones, 11 John Rudd, 10 Jonny Wilkinson, 9 James Grindal, 8 Phil Dowson (c), 7 Brent Wilson, 6 Andy Buist, 5 Mark Sorenson, 4 Andy Perry, 3 David Wilson, 2 Andy Long, 1 Micky Ward.
Replacements: 16 Matt Thompson, 17 Carl Hayman, 18 Geoff Parling, 19 Russell Winter, 20 Ed Williamson, 21 Micky Young, 22 Tim Visser.
London Irish: 15 Peter Hewat, 14 Topsy Ojo, 13 Seilala Mapusua, 12 Shane Geraghty, 11 Sailosi Tagicakibau, 10 Eoghan Hickey, 9 Paul Hodgson, 1 Tonga Lea'aetoa, 2 Danie Coetzee, 3 Faan Rautenbach, 4 James Hudson, 5 Bob Casey, 6 Declan Danaher, 7 Richard Thorpe, 8 Phil Murphy.
Replacements:16 Dan Murphy, 17 David Paice, 18 Nick Kennedy, 19 Juan Leguizamon, 20 Steffon Armitage, 21 Warren Fury, 22 Tomas De Vedia.