Irish too good for Falcons
England fly-half returns from injury to inspire Irish win
Last Updated: 23/09/07 6:35pm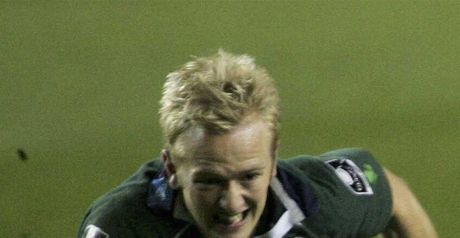 Geraghty: Back with a bang
Fly-half Shane Geraghty was at the heart of London Irish's convincing 19-0 win over Newcastle at the Madejski Stadium.
Geraghty saw his World Cup hopes ruined by a hamstring injury, but he returned with great effect to help the Exiles get a first win of the season against a poor Falcons side.
The 21-year-old England man provided all the creative flair that Irish had been without in their opening day defeat against Harlequins.
Geraghty split the Newcastle defence for the break that led to prop Faan Rautenbach scoring the first of Irish's two tries, while Paul Hodgson grabbed the second.
After Jeremy Staunton had kicked the first of his two penalties, Geraghty side-stepped his way through the Newcastle defence in the 18th minute.
Staunton was stopped just short of the line, but the Irish pack was at close hand and prop Rautenbach eventually got over for the opening try.
Scrum-half Hodgson's 32nd-minute try was an opportunist effort, as he grabbed the ball from the base of the scrum and kicked over the head of opposite number James Grindal before diving on the bouncing ball.
Missed kicks
Staunton kicked just two of five attempts but that mattered little as Newcastle, without the likes of Jonny Wilkinson, Jamie Noon, Mathew Tait and Toby Flood struggled to muster any dangerous attacking moves.
Geraghty was brought off four minutes into the second half as part of director of rugby Brian Smith's plan to carefully manage the youngster's return from the injury he suffered at an England pre-World Cup training camp.
Any chance of the Falcons getting back into the game ended with centre Tom Dillon being sent to the sin-bin on 55 minutes for killing the ball in a ruck.
Staunton did kick that penalty to make it 19-0 and that was the end of the scoring as Irish wasted chances to extend their advantage further with some sloppy work.
They were easily good enough to get the victory though and Newcastle will need to show vast improvement to avoid another defeat.