Jonathan Davies talks about settling in with Clermont and playing in the Top 14
Last Updated: 05/09/14 11:54am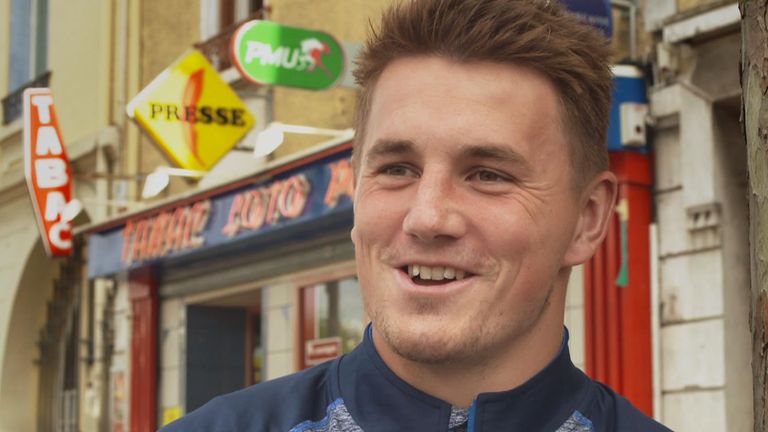 I have settled down to life in France pretty well and things are beginning to go to plan.
I can't say things went to plan when I first arrived though, as I found out I had fractured my toe during the second Test in South Africa.
We have so many threats out wide with players like Wesley Fofana, Napolioni Nalaga and Zac Guildford – real talent that we need to use as effectively as possible.
Jonathan Davies
I just thought it was a bit of a bruise but after a couple of weeks of not being able to walk properly I went to get it scanned and found out it was fractured. Luckily it happened during my time off but I still had to make sure I looked after myself and made sure I turned up at Clermont in the best possible shape - turning up in a big air boot was not ideal but it has all healed now. I have settled in well.
I am working hard on my French – it may seem obvious but it does take a bit of time to get my point across and to understand what some of the French boys are telling me. But that is all part of moving over here and it is a work in progress. The lads here are fantastic and have really welcomed me. Clermont captain Damien Chouly has been putting me up while my place is getting fixed up.
Momentum
I actually bumped into him in Dubai on the way back from South Africa and we got chatting and he kindly offered me place to crash. It's been great as he has really shown me the ropes, taken me to the places where you should go and eat, told me which places to avoid and just made sure I know my way around the town and the club.
I have only played two games but the atmosphere is just incredible. There is so much passion, a bit like back home but with bigger crowds. As far as the start to the Top 14 well I think against Grenoble we were far too loose in defence and we really need to tighten that up. The win in Brive was very dogged but to go there and beat them was really good.
However we were very disappointed after Friday's home loss to Montpellier, where we were inept with the ball and couldn't seem to keep hold of it for more than five or six phases. Against the best teams you really need to build up your momentum and while it is the start of the year, it is something we need to work on. This week has been a good one training wise and luckily we have another home game this weekend to get things right.
I have found that the speed of the game in the Top 14 is a bit slower that the PRO12 – they are slightly more forward based here but the style of play that we are aiming for is a high tempo one. We have so many threats out wide with players like Wesley Fofana, Napolioni Nalaga and Zac Guildford - real talent that we need to use as effectively as possible.
Peace
It's been great to see that there is peace in Wales rugby at last. It has been hanging over the players for the last 12 months and it is great that they have finally been able to get it sorted. Everyone can know focus on the rugby now and hopefully all the politics are over and the boys can get on with putting on a great show on the field.
I'm excited for the Scarlets this season as well. I have been speaking to Rhys [Priestland]  and there is a great expectation in the team. My brother James has also started there so I will definitely be keeping a close eye on how he gets on. Losing Simon [Easterby] as coach is a big loss but Wayne Pivac is a great coach and a fresh pair of eyes and some fresh ideas can do wonders. The Pro12 is going to be so competitive this year and it should be fantastic competition.