Jonathan Davies is delighted to be back in training but gutted he is missing the trip to Clermont Auvergne
Jonathan Davies is delighted to be back in training but gutted he's missing the trip to Clermont.
Last Updated: 06/12/13 2:04pm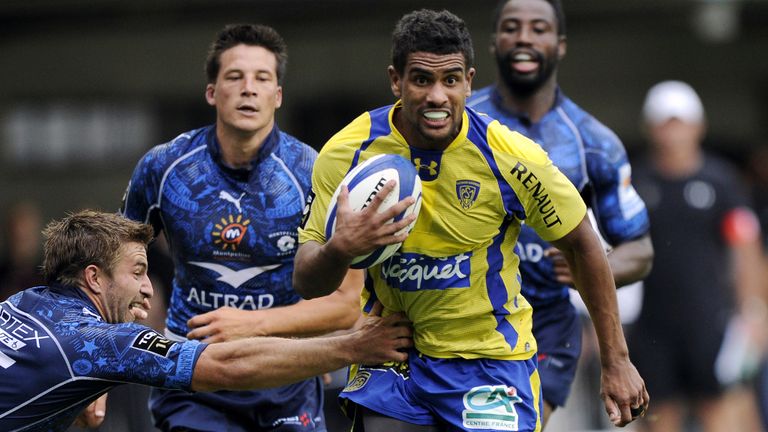 The first thing is to get the range of motion back into my pectoral muscle before I really start pushing it - I'm taking it slow and steady and am in good hands.
This week the Scarlets have been focusing on their clash with Clermont Auvergne. I will be staying in Cardiff and will watch the game on Sky - my parents are going over though. They booked their tickets a while back but I think they are going over on a recce to make sure that they approve of my move!
I am gutted to miss this game; it was such a great fixture last year and I think it will be another superb game on Saturday. Obviously with a lot of the boys being away on international duty, coming straight back into the Heineken Cup will be difficult but they have slotted in pretty well and there is a real excitement about this game. The Heineken Cup is such a big tournament and you can really feel the buzz around the club during Heineken Cup week.
Everyone says how intimidating it is to go to France but I just love it, personally I think it is such great theatre. They usually have drums going, all the blue and yellow flags are out and the atmosphere is just so special. It just encourages me; you want to perform at your very best in that arena and really rise to the challenge. There is nothing better as a region or as a club to go over to France and get a win in that environment.
It's a big ask going to Clermont Auvergne who are very powerful upfront and they have some very dangerous strike runners too - players like Wesley Fofana and Sitiveni Sivivatu. But we have some great talent ourselves - Jordan Williams is a real livewire and can threaten from anywhere. It's a tough place to go and get a win but you have to be positive and believe you can do it - it should be a great game and hopefully we can come out with a result.
Our pack has being going through well for us though and have been able to produce a good platform from where we can attack. We need to look to control the game there and make sure that we keep in that arm-wrestle.
I know I am moving to Clermont next season but I am not sitting on the fence. I am hoping to be back playing towards the end of the season and really want to play in the play-offs of the Heineken Cup; that would be an amazing way to say farewell to the Scarlets.
On Wales
The autumn internationals did not end the best for Wales as we were unable to get a win over one of the top three sides in the world. Credit to Australia though, they really looked dangerous with the ball in hand and a few times it looked like they were going to score at will. Fortunately our defence held tight and I was impressed with the way we fought back.
At one stage I thought it may end quite badly but the boys dug in to fight back. We fell at the final hurdle and could not turn that pressure that we put on them into the result we desperately needed.
Speaking to the lads afterwards they were pretty gutted and it would have been brilliant for them to get a win. However the Six Nations will come around soon enough and I think we can once again show our credentials and just how good we are again.
Come January I have no doubt that the boys will knuckle down and produce the type of performances that have seen us win the Six Nations over the last couple of years.
Lucky charm
Not playing is tough but then on the upside I can watch some football and while it is not going well for Manchester United I still have every faith.
I am hoping that in the New Year they can turn the corner. My injury means that I can use my season ticket a lot more - hopefully I will be a good luck charm for them!
Click here for our extensive Heineken Cup coverage, only on Sky Sports