Jonathan Davies on Wales' loss to South Africa and signing for Clermont
Jonathan Davies explains why he signed for Clermont Auvergne and discusses his heartbreak over his injury.
Last Updated: 14/11/13 7:34pm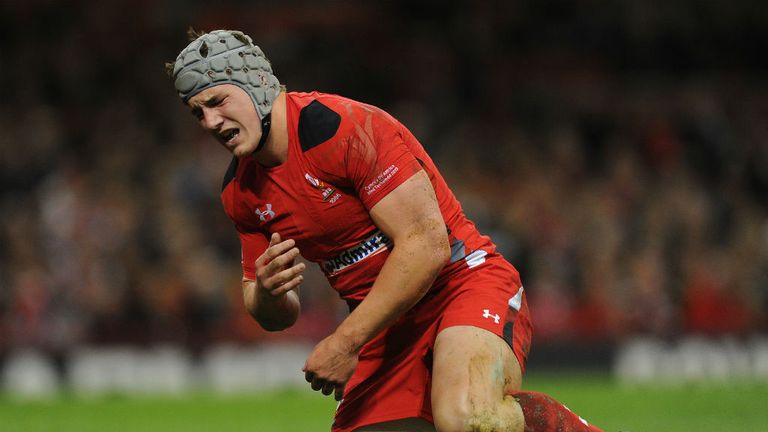 I tore my pectoral muscle right off the bone trying to get under Jean de Villiers when he went over for his try - I heard a pop and knew something was wrong.
It took the medical team a bit of time to get to me as they were dealing with Liam Williams' head injury - I thought I would try and run it off but when the physio got to me and asked if I could lift my arm and I said no, he told me I had to come off. I was gutted.
I was hoping to see if it settled down but I had the scan on Monday and when the results came back I was told I needed an operation which I am having this week.
Clinical
The game was pretty physical from the word go. We were unfortunate that we picked up a few injuries in the first half which did not help us settle, but to be fair to South Africa they really took their chances and were very clinical. I was really enjoying the game and it was going pretty well, but these things happen - especially in rugby.
It was very disappointing for us because we had a great preparation. I know I keep on saying this but it is really frustrating as we are really not that far off. We just need a bit more accuracy in our game and make sure we take those chances - we were absolutely gutted after the game.
I have spoken to Rhys Priestland and a couple of boys this week and they are getting ready for Argentina. On Monday and Tuesday the boys were pretty battered but they had a solid session on Wednesday and on Thursday they will be fine tuning things.
There should be a couple of new caps - Rhodri Jones may start and Corey Allen will be in the centre too.
I know there have been calls for George North to move into the centre but he has not played there much and while everyone wants him to get his hands on the ball more often, I think he is best staying on the wing and Wales just need to make sure that we utilise him more.
A hard decision
The other big news from me this week is that I signed for Clermont. It was one of the hardest decisions I have ever had to make. I have grown up supporting the Scarlets and being part of the team has been very special and I am hugely proud of the club.
I played out in Clermont last year and it was an amazing experience - they are one of the best teams in Europe and it was an opportunity I could not say no to. I believe the chance to experience what Clermont has to offer will make me a better rugby player.
I did not speak to any other club, it was either stay with Scarlets or go to Clermont. I made the decision on my own and was not influenced by anyone. I kept it quite because I really did not want to make a big fuss about it all, it was a tough decision but it is the right move for me.
I sat down with Stephen Jones to chat about Clermont and he only had good things to say about the club and that I would have a great time, obviously it will be very difficult to say good bye to Scarlets though.
A real honour
I am hugely disappointed that I won't be able to play against Clermont for Scarlets in the Heineken Cup - that would have been a great chance to say hello to my future team-mates!
I would really like to say a huge thank you to all the Scarlets fans who have been amazing over the years. It has been such an incredible honour to represent the club and I have enjoyed playing in front of them.
I have not had much time to see any of the games but did see the second half of France v New Zealand. France looked unlucky in the end and they looked very good. Wesley Fofana has been outstanding over the last couple of years and I am looking forward to playing alongside him next year.
I am looking to laying back and watching a lot of rugby this week with some cracking games - it looks like I will have to watch Wales v Argentina from my hospital bed but I am sure they will do a job against the Pumas!