Wales need to start beating teams like South Africa - Jonathan Davies
Jonathan Davies says Wales are ready to fulfill their potential when they face South Africa.
Last Updated: 14/11/13 4:58pm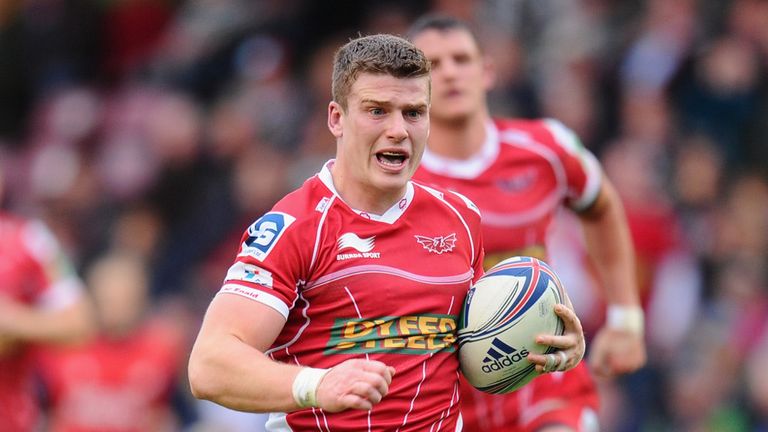 Our preparation has been excellent - extremely tough but that is what you have to go through when you are planning to beat one of the southern hemisphere sides.
We have had some new boys come into the squad so we have been working on a lot of rugby stuff to get them familiar with different moves; our organisation in attack and in defence and just making sure we are all on the same page. It is a real intense training environment here - we have this new altitude chamber which is not pleasant and they have really worked us hard in it. There is a real edge in training which is good.
I am pleased that Rhodri Williams has been called up into the squad . I have watched him really develop his game with the Scarlets and this environment really suits him. It's such a great learning curve to be involved in the national set-up and it really helped me when I first got called up. You may be playing well for your region but this is another step up all together and you are challenged all the time to keep on taking that step up. Rhodri has adapted well though and I hope things go well for him. Mike Phillips is glad to be back in Wales and is looking forward to the challenge of players like Rhodri putting pressure on him for that No.9 shirt.
Scott Williams has played extremely well and I am looking forward to teaming up with my Scarlets centre partner on Saturday. His performance in the Heineken Cup has been exceptional and he's ready to take the next step in his career. Competition for the centre is really fierce with the likes of Cory Allen and Ashley Beck also playing so well.
Physical test
South Africa is a huge test for us - they are the second best team in the world and anyone who watched the Rugby Championship will see just how well they have been playing. They bring a real physicality to the game - a physicality that just never lets up and they just keep on coming. This season they have also added another dimension to their game - we all know how dangerous Bryan Habana is but they have got players like Willie le Roux who loves to attack too and are dangerous from all over the park.
This is a game that we are all looking forward too. We are a well-established side now - a group of us have 20-30 caps and it is important that we are moving in the right direction and that means getting wins over the likes of South Africa. We want to be competitive at this level - to win massive games at World Cups we have to beat the best teams in the world. We are looking for some big results this autumn.
Last autumn we were a bit slow getting out of the blocks and we cannot afford to do that this year. We have really focussed on getting geared up and knowing what we have to do from the very first whistle. We cannot allow South Africa to just hit us standing still; our forwards are excellent and can really hold their own against anyone. There is a lot of talk about playing in the right areas and not putting pressure on ourselves - that means being patient and trusting in what we have done in training. Sometimes in the heat of the battle you can force the issue a bit but we have to stick to our game plan - South Africa are a team who can really punish you.
Confidence is high
There are a big group of us who experienced that Lions series win over Australia. However there has not been much mention of it, it's crucial that we focus on where we want to go with Wales and not what happened in the summer. It's important that we move forward as a squad and there is a lot of pressure on us to produce some good performances. But I believe that this group of players perform better under pressure and can deliver what is expected of us.
I sat down on Saturday and watched the England v Australia game and thought England did really well in the second half. Obviously we are playing Australia this autumn too and have England in the Six Nations so it was interesting to see how they got on. However we don't look too far ahead and by the time we get to play them a lot would have changed. Our total focus at the moment is South Africa and to get a winning start to our autumn series will be huge.