The Lions legacy has given Jonathan Davies a thirst for more success with the Scarlets
Our new columnist Jonathan Davies talks about that winning feeling and life with the Scarlets.
Last Updated: 03/10/13 4:56pm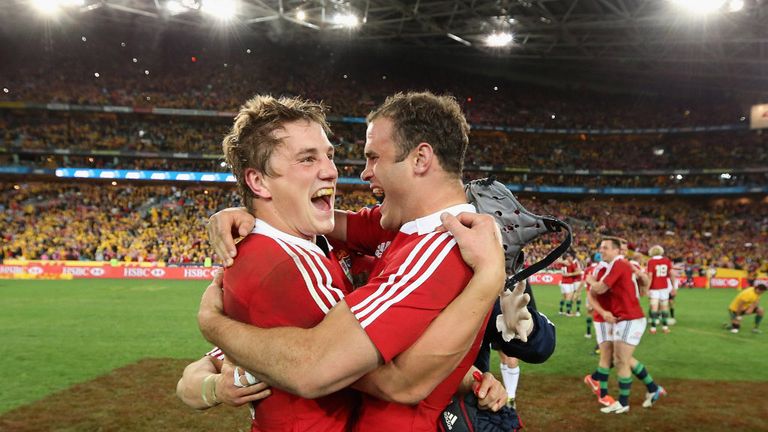 I had a good break when I got back - I went on holiday with my girlfriend and then went away again with the lads for a quiet couple of days...
The success of the Lions stayed with me throughout my break though, and I was well aware that I had to return to training in half-decent shape - that tour certainly reiterated my desire for more success at club and national level. It was great to get back and I was even excited to get back into training.
It was good to see all the boys back at the Scarlets and the new lads have all settled in really well - it's always tough to come to a new team but the club ethos here is amazing and we have bonded really well.
On the field things have been going okay, we were really disappointed with our first two games where we lost, but much happier with the win against Edinburgh last weekend. We lost to the Dragons and basically gifted them 17 points in the first half and despite a good fight-back in the second half we just fell short. I felt we also played well against Leinster in the first half but in the second we lost our way a bit. So that win against Edinburgh was really good for us and I think we finally showed the right control and focus.
Up next we have Glasgow, who are top of the Rabo Direct and we will really have to make sure we are on top of our game if we want to record another win.
You often hear coaches and players say that you need to play in the right areas and that really applies to us. We are a side that is very comfortable with the ball in hand and we like to play a high tempo game. However there is a time and a place for that so our kicking game has to play a huge part as well. We need to be able to put pressure onto the opposition and get us in into those areas where we can use our ball skills. We also don't want to be chasing the game - that is never a good situation to be in - that is when mistakes happen.
Another word that we use a lot is accuracy - we need to make those scoring moments count, especially when we play against the best in Europe.
Special
After Glasgow we head into the Heineken Cup, and it really is a special tournament - when the Adidas balls come out in training you know it is an important week! Everyone gets excited - as a player you really want to be involved playing against the best and it is definitely the best club competition out there. Hopefully all the teams involved can play a brand of exciting rugby that will overshadow all the politics going on off the field.
Apart from being excited about the Heineken Cup (more about that next week) I'm also excited about my season tickets for Old Trafford. My brother and I are huge Manchester United fans and for his birthday I got us both season tickets - I have not been able to go up there yet but hope to get up soon.
It's been a bit disappointing to see the start they have made but I think there was always going to be a few teething problems for David Moyes. It's a tough ask for anyone to come in after such a legend like Sir Alex Ferguson but there is plenty of quality in the side and I'm confident that they will click soon.
We have a few lads who support Liverpool who were over the moon when they beat us but thankfully we have no Manchester City fans!
Next week the Scarlets skipper speaks about their first Heineken Cup game against Harlequins