A call to Arm
Phil Edwards explains how Delon Armitage gave the game away over his England selection.
Last Updated: 08/09/11 10:33am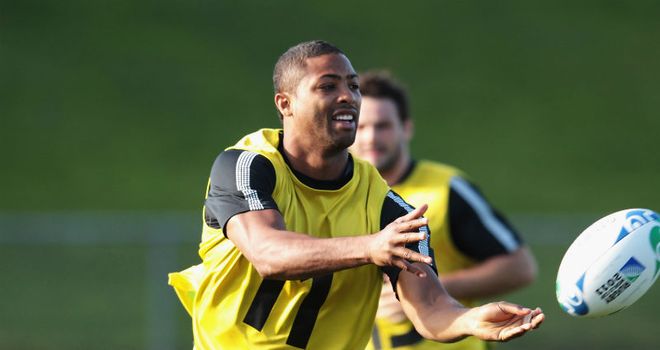 The final preparations for the seventh Rugby World Cup are almost complete.
As the eyes of the world focus on New Zealand, Sky Sports News HD rugby union reporter Phil Edwards will bring you the inside track on the biggest and best stories around - as well as some of the more bizarre - in his skysports.com diary.
Follow Phil on Twitter as he reports on the latest developments from the heart of the England camp and tackles the headline issues as the tournament unfolds.
Catch up with previous entries here...
Week Two: Dunedin
This is the first "Test week" proper at the World Cup and it feels like it. Gone are the skyscrapers and swanky restaurants of Auckland. Instead we, and England, find ourselves in the oldest city in New Zealand.
Dunedin (or as our locally-hired sat-nav inexplicably pronounces it, Doo-ner-din) is the furthest city in the world away from Twickenham. As I mentioned before, if you went from here to the South Pole you would, strange as it may seem, be closer to home. It's all to do with antipodes. Or something.
First the bad news: despite being assured that every member of the squad would be ready for full-on training this week, we learned that Lewis Moody, who'd taken three steps forward on the road to recovery from his knee trouble, has since taken a large stride in the opposite direction. As you'll know he can play no part in the opener against Argentina on Saturday.
Martin Johnson insists he still isn't too concerned about his captain, but how long can he keep talking about "minor niggles" and "tweaks" in a tournament of just seven weeks' duration? We all hope "Mad Dog" is allowed off the leash as soon as possible, but I'd be surprised if Chris Robshaw's mobile is not permanently within arm's reach.
Wednesday September 7
This day should have begun with a 6am alarm call, but yours truly pressed the wrong button and it began instead at five. Numpty!
We then set off to the tiny airport (amusingly signposted as Dunedin International) to accompany England on a goodwill visit to the city we all thought we'd be based in for the first two pool matches, Christchurch.
A lot has been written and spoken about how people's World Cup plans were wrecked by the devastating earthquake there in February, but you will be pleased to know that Martin Johnson and co had not lost sight of the far bigger picture.
The quake claimed the lives of 182 people and laid waste to vast areas of the city including Cathedral Square and the surrounding streets. Some of us were escorted into the so-called Red Zone to see the damage at first hand.
I'm almost sorry I went. Having spent so many happy evenings in Christchurch in the past, the sight of this pitiful ghost town left me feeling sick to my stomach. On a positive note however, the stoicism of the mayor and others during the visit was truly inspirational. Good luck to them all over the next few difficult years of regeneration.
England paid a visit to Lancaster Park (under the circumstances I cannot refer to this graceful old ground as the AMI Stadium) and walked on a pitch now creased and disfigured by the ravages of immense subterranean forces.
Above them in one of the stands, the stadium clock stood frozen at 12:51 - the exact time on February 22 that the quake roared from the south west, into the city's outskirts and through its very heart to the sea.
Both there, and at the city's maternity hospital (where he held a new-born child in his shovel-like hands) Martin Johnson spoke eloquently. His message was that events such as natural disasters put life and mere rugby into stark perspective. It was England's idea to try to give something back to a city that had lost so much.
Most would agree that in this, they succeeded.
Thursday September 8
I'm now just back from a press conference where Johnno revealed the make-up of his team to play the opening match against the Pumas.
There had been rumours all week that Mark Cueto would miss out owing to a minor back injury and this has now been confirmed. Many of us had not been sure the injury was that severe when the player himself tweeted to his loyal followers from a golf course during the team's day off.
Quite how wielding a three wood above your head helps when you've got a bit of gyp is beyond me.
Incidentally, England had refused to confirm or deny, during the trip to Christchurch, that Cueto would be "hors de combat" in case those sneaky Argentinians got a "heads up" back at their hotel in the northern reaches of Dunedin.
Little did the management realise that while out for a leisurely stroll in the city centre that same day, Delon "Off Message" Armitage ran into a couple of the Argentine players and proudly told them he'd be donning the number 11 jersey on Saturday. Doh!