A flair fight
It's refreshing that all four Heineken Cup semi-finalists support attack-first rugby, says Dean Ryan.
Last Updated: 24/04/12 2:59pm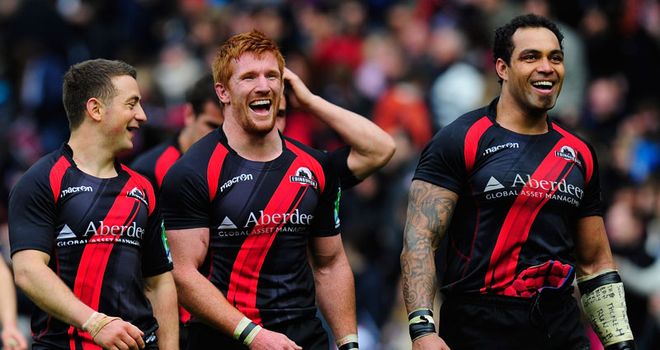 There are those around that would have you believe that the traditional role of the seven is dead and that the job description has been broken up and shared out amongst all three members of the back row with a healthy contribution from your outside centre.
England were certainly advocates of this philosophy during this recent Six Nations and the emergence of Chris Robshaw as England's worthy captain supports one side of the argument.
Having not been at the coalface for a couple of years I took a recent poll from a few respected coaches within the Premiership and they all talked about the need for versatility from their seven with the ability to win the collision and operate within the line-out as a viable option as being a priority. The more traditional role of operating close to the ground at the tackle and providing that subtle pass to provide continuity all seemed secondary to the fight for parity at the initial contact.
With some of the world's leading names at seven - players such as Richie McCaw, David Pocock and Sam Warbuton - all masters at ground level, it seems hard to believe that England and some of the leading lights in the Premiership are taking a different view.
Multi-task
It seems that the English club game that gave us battle-scarred warriors such as Neil Back and Andy Robinson has turned its back on the specialist with the ability to multi-task now a priority.
When you take a look around the game and take a look at England's leading EPS contenders for the open side it's fairly obvious which camp Robshaw, Tom Wood and Calum Clark fall into.
England's impressive defensive display during the Six Nations is still fresh in the memory and, as covered in a previous column, Robshaw's contribution to England's line-out effort often removed him from the defensive role of getting to the breakdown. Instead that responsibility often fell to Dan Cole to operate off the back of a line-out and take up the first guard position on the far side of any opposition ruck.
England chose to use their midfield pairing of Bradley Barritt and Manu Tuilagi to provide the collision and contest to slow down the ball allowing Cole and co enough time to get in place. On this evidence it seems a job shared is one well done.
Stress
But for some reason I'm not convinced and snippets of evidence from one of the games of the season between Quins and Leicester last weekend support my gut feeling.
Firstly the approach of both sides to attack was a welcome relief to Friday's kick-fest between Newcastle and Saracens, but by doing so it put defensive structures under a huge amount of stress.
Let's look at one example of play in isolation which began with a traditional set-up off a lineout.
Robshaw was at the back ready to contest in the air, ruling him out of any immediate defensive responsibilities, while Nick Easter was in behind ready to lift and the formidable presence of Maurie Fa'asavalu was lurking off the back ready to fire off into the midfield.
Leicester won off-the-top-ball and ran a strike move involving Anthony Allen, whose clever angle of run launched him into the Quins' midfield. The point of attack caught Quins' defenders off balance and he got to an inside shoulder giving Allen that vital second in control of the contact.
Fa'asavalu loomed into the vicinity ready to add his considerable presence to the contest but a subtle off-load inside by Allen caught the big man out and he lost his footing.
With no contest at the breakdown Easter recognised the urgent need for him to get to the far side, which was under threat, and he rushed around the back of the breakdown.
His hurry to get in place forced him to look on the outside first and the sparky Ben Youngs sent him a dummy and went through the space he had just come from. Ten seconds later Steve Mafi went under the posts and Leicester were back in the game.
Versatile
Now I'm not naïve enough to just offer up one piece of evidence as the case for the return of the specialist, but what I will say is the quality of an attack will always highlight the requirement for a defence to be more versatile.
The balancing act of having big men who are masters of the collision will always be their inability to match the reactions of the smaller lighter man on his feet.
If the weekend's Premiership action between these two was anything to go by then thankfully attack may be back in vogue and, if it is, don't rule out the return of the seven!
When we look forward to this weekend's Heineken Cup clashes it's refreshing to see all four semi-finalist supporters of attack-first rugby.
It's not that long ago that I questioned whether a side based on all-out attack was well-suited to the latter stages of European competition.
Leinster have kept the dream alive for many of us over recent years even if it was difficult to match their precision and movement. Attack done well can stand up to the suffocating pressure that is knockout rugby and it's refreshing to see that approach rewarding Edinburgh with their first semi-final place.
Ulster are capable of their own brand of attack even if it was their admirable defensive effort led by Stephen Ferris that got them through against Munster.
Finally Clermont are the most physical of the four and will look to prioritise this first through the power of Nathan Hines and Jamie Cudmore but any side with the names of Wesley Fofana, Sitiveni Sivivatu and Morgan Parra can't be all about the forwards!
My Predictions are...
HEINEKEN CUP
Ulster v Edinburgh: End of the Scottish dream with an Ulster win.
Clermont v Leinster: Hard to call but will opt for precision over power and a Leinster win.
AMLIN CUP
Biarritz v Brive: Biarritz win.
Toulon v Stade Francais: Toulon win.