Weighing up England
Dean Ryan is bemused by the England detractors and gives his picks for the first round of the Six Nations.
Last Updated: 09/02/12 2:49pm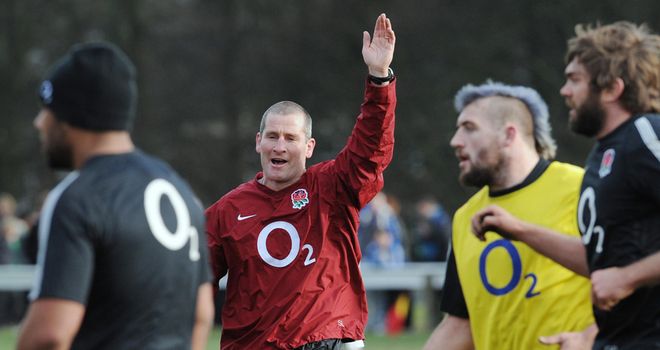 There is nothing that we do better in England than to build our sporting teams up and then take delight in pulling them back down to earth while informing all and sundry that we were the ones that could see it coming. The Southern Hemisphere calls it "Tall Poppy Syndrome".
I don't think that there was anybody in any doubt that the England Rugby team during the World cup had hit the buffers both on and off the field and the pressure for change ended in Martin Johnson's dismissal.
That call for change and a new direction came from all quarters of the media, but it's the reaction to change when we finally get it that bemuses me.
During the Johnson era any number of informed media would bemoan the fact that there was no visible long-term plan and the short sighted view of having to win the next game at all costs would ultimately have a price to pay.
The call for players to stand up and take ownership of on field decisions was a common one, while no reference ever being made of the characteristics and responsibilities required or efforts to create an environment in order to make this feasible.
So it is with some amusement that when the very actions that were being called for are being put in place, they are seen as a smokescreen and we instantly revert to saying if we win against Scotland everything will be all right.
The results business
Now every coach is very aware that they are in the results business but to remain in that business for the long-term it has to be a constant balancing act between long-term plans and principles and short-term results. Too heavy an influence on either will ultimately end in the same place of failure.
This balancing act is best captured in three key areas that must combine to form a successful team, Culture/Squad selection/and Playing philosophy.
If we accept that all three will play a part towards building a successful England team, then we also must accept that Stuart Lancaster can so far only be judged on the first two where he has come up with the majority of right answers.
Culture/ Environment
Too many coaches shy away from really driving this area as it can often put you on a collision course with certain players, but unless you create boundaries here in how you believe people should behave and what characteristics you will be prioritising you can never be confident of true alignment within your squad.
Lancaster has been right to state that the current squad was perceived to lack humility and had lost the ability to engage with the public.
This isn't just fancy window dressing for the marketing department to take credit for as really true values such as humility have their payback in the playing arena.
Work ethic, driving standards and constantly striving to improve are all behaviors that can be captured under such a heading and are just the sort of direction Lancaster is after.
It is no surprise that Chris Robshaw has been made Captain as not only has he led his team Harlequins to the top of the Premiership but even from the outside it is easy to see how he captures these values.
Rugby will always be a team sport entrenched in the need to have total confidence in the person next to you being able to carry out his job in order for you to do yours, so let's not lose sight that this is as big an area for development and guidance as any playing issue.
Squad Selection
One of the hardest areas to get right specifically when selecting at International level.
So different from club level where your 1st XV will be a lot clearer in your mind and the drop off in quality behind them much steeper.
An International team will have an abundance of talent in each position and the key is to get the right combinations working together.
This is your most powerful tool in driving your philosophies in the other two areas as your personnel should reflect what you are after in both playing style and culturally.
This can be the only area that I currently disagree with Lancaster and that is over the non-selection of Nick Easter. With Dowson's likely inclusion in the team the argument of looking to the future loses weight and I can only assume that Lancaster feels that Easter does not fit culturally as he ticks all the boxes in playing form.
Lancaster must believe that the gains that can be made by having a group on the same page out-weigh Easters playing ability and experience. A cut too far in my opinion but time will tell.
Robbed by injury of the services of Flood, Lawes and Tuilagi there are not really any other areas of debate and the key now will be in striking the right blend of youthful promise and battle hardened experience.
Playing Philosophy
There is no doubt that this is Lancaster's weakest suit but we must beware pre-empting any outcome until we have a better idea of what this is.
There is no doubting the language coming from the coaching team that England will be striving for a more expansive, liberated approach.
The real challenge isn't in coming up with a framework for players to understand but having the depth of knowledge of when to adapt that framework.
We have all built game plans requiring certain elements to go well only to see them disappear 30 minutes in. It is then that a coach earns his money, knowing where to go to next what to adapt, which button to press in order to find a way through.
This can only have been built up with miles on the clock and hands on experience. To rely on your instincts of what to do next you have to have built up that bank of game time, made mistakes and adapted future thinking.
England's coaching team of Lancaster, Farrell and Rowntree will have to pool all their relevant experiences to compete in this area.
Leading any National team is a complex job and the need to dovetail all the relevant elements are a true test of anybody's ability to manage.
So far all the signs around Lancaster's England have been in the right direction and I for one wish them well as they enter this season Six Nations tournament.And remember if and when we are to judge this interim coaching team we must ensure that we look at all the facts, and not just the short term results, otherwise we are all guilty of chopping our "Tall Poppies " down.
France v Italy: St Andre off to a winning start with Centre Wesley Fofana 11/1 my man to watch for first try for France.
Scotland v England : Scotland 11/8 to win as the Murrayfield Test comes just too early for Lancaster's England 4/7. David Denton to get off the mark with a try for Scotland.
Ireland v Wales: Ireland 1/2 to take European form into the Six Nations with a home win. Tommy Bowe for first score.