French unity?
Dean Ryan wonders what is becoming of the world if you can't rely on French sides to resort to type.
Last Updated: 15/12/11 4:14pm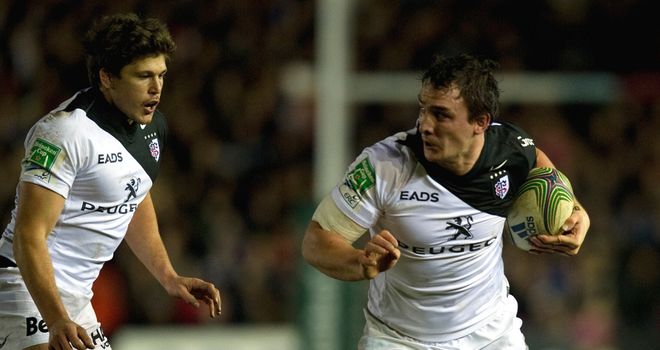 There are a number of things in life that you would like to think you could take for granted.
As the saying goes death and taxes occupy the first two and it was always my belief that the fact that the French sides would flatter to deceive in Europe would be somewhere close behind. That was until this weekend.
It has been the case for some time that the French clubs have had huge budgets and go about stockpiling some of the world's best talent, but somehow that never really transferred itself to a performance worthy of the players within.
There always seemed to be something missing; teams would often be capable of short bursts of brilliance only to fall back into an unorganised rabble at the first sign of a decision against them. A Gallic shrug and indiscipline was a clear indicator that things were moving your way.
Now this, from an English point of view, is what gave us our edge, our ability to compete with the star-studded line-ups from across the water.
We were supposed to the ones with superior organisation, capable of grinding sides down with relentless structure, frustrating the French with our ability to implement plans worked through on the training pitch all week.
Fulfilling each individual role within the team system to ensure the sum of our collective parts more often than not came out on top of their individual brilliance.
English sides also prided themselves in controlling emotions, capable of going into enemy territory and engaging with the opposition in the dark arts only to watch with delight their volcanic response derailing any possibility of French unity.
That was how the world was supposed to be until last Friday and Round 3 of the Heineken Cup kicked off with Harlequins - England's top-placed Premiership side - versus Toulouse, the French Top 14 pace-setters.
Now, granted Toulouse have Heineken pedigree like no other side, but even they have suffered in the past especially in the pool stages of not really being up for the contest.
Clinical and precise
This was a very different Toulouse performance. Precise, clinical - even methodical. They never once strayed from the script, but were patient and disciplined in defence with the majestic French captain Thierry Dusatior to the fore and brutally powerful on the charge behind the impressive Louis Picamoles.
But most impressive of all was that not once did they look for the miracle play or get drawn into the fast, fluid game favoured by Quins, content to stay on plan and patiently wait for their opportunities to arise, until a typical Picamoles burst set up Timoci Matanavou for his try with superb running lines down the left flank.
You just got the feeling that this was 'Job done' now let's get back home, so often something you would relate to English successes on the road.
It is no surprise that Phillipe St Andre, France's new coach, has recently announced the appointment of Yannick Bru (the Toulouse forwards coach) as he attempts to access some of that Toulouse intellect.
Chaos still reigns
Not to worry - Saturday's clash between Northampton and Castres would restore order as one of England's most physical sides tried to rescue their European challenge.
Two yellow cards to Stephen Myler and Tom Wood undermined any realistic chances of success with the metronomic boot of Romain Teulet punishing any indiscretion, while the Northampton back row - depleted through injury and suspension - struggled to get parity with the impressive Castres trio of Masoe, Malonga and Diarra, coming out second best in a 41-22 result.
How close would Castres have been to contending for this group but for a last minute penalty by Priestland away at the Scarlets and O'Gara's heartbreaking drop goal in Round two?
Tigers taught some home truths
Finally, all hopes rested on Leicester shoulders - the English stalwarts of the past in Europe - as they tried to break the Fortress that is the Stade Marcel-Michelin Clermont's home ground.
Leicester - masters at the bump and niggle that infuriates opponents - suddenly found themselves on the receiving end of a lesson of their own.
Morgan Parra was at the centre of all things underhand that included an early spat with George Chuter; finally Chuter, having had enough, hit him with a late tackle resulting in both him and Manu Tuilagi down the tunnel at the same time for a similar offence.
Any chances of salvaging even a losing bonus point disappeared with them.
We must not forget to mention London Irish's victory on the road against Racing Metro but we can't fail to see the impressive statement of intent by the French Teams in this the crucial double header of Round 3 and 4.
Not only will this have an immediate impact on clubs' qualification hopes but, if you take a longer term view with the Six Nations on the horizon, it will affect an England team that is about to go through a youthful transition.
The last thing we want to see is a French team emerging with discipline and order to underpin their undeniable talent. Where would we be then?
Nobody likes change so let's hope we return to a more normal state of affairs this weekend.
Dean's Sky Bet predictions
Ospreys v Saracens: Ospreys win
Leicester v Clermont: Leicester win
London Irish v Racing: home win
Gloucester v Connacht: home win
Leinster v Bath: home win
Northampton v Castres: home win
Toulouse v Quins: home winLeicester v Clermont: