Man in the middle
Ahead of Heineken Cup round three, Dean Ryan looks at the most influential man on the pitch.
Last Updated: 08/12/11 5:31pm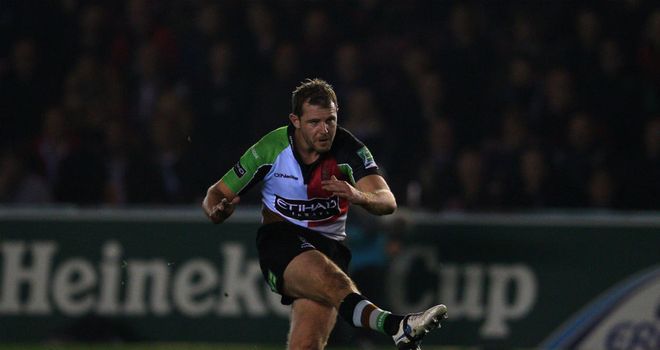 Round three of European competition kicks off this weekend with the much anticipated back-to-back fixtures against the same opposition.
These two weekends are the defining games off the pool stages and a slip-up here and qualification hopes will slip away. Coaches across Europe will be nervously checking injury lists to ensure the names of key personnel are absent.
There is nobody more key to a team's fortunes than the position of fly-half and it is no surprise that within the Heineken and Amlin Cups we have the good fortune of watching most of the world's best go head-to-head.
Only Quade Cooper and Dan Carter are absent from the list with the latter having had an attempt to experience Heineken with Perpignan cut short by injury. With a sabbatical written into his new All Black deal let's not give up hope just yet of seeing him grace the European stage.
What is it about the No 10 that makes coaches reach for the cheque book when scouring the world when planning their squads?
Firstly experience matters. When you find yourselves in the tightest of corners with time on the clock running down and all your attempts to change the course of events having run out, you need somebody who has been there done that.
Think of Munster's last few minutes in their opening fixture against Northampton. Everybody could see what was about to happen. With Ronan O'Gara sat in the pocket waiting for the right opportunity, twice turning ball down (The first from an O'Connell shovel pass ) and finding a forward on his inside to start the process again. Until finally the ball was in the right position, the stage was set and O'Gara obliged the delirious Munster fans to steal the points from a game they only held onto by their fingertips. If you thought that was a one-off then watch exactly the same play in Castres the following week.
Walk the walk
Secondly, swagger. There is something special about a person that wants to put themselves in the firing line time after time. There is no doubt that forwards will continuously throw themselves into the fray as long as when they look round the man sat at 10 exudes confidence. There can be no chink in the armoury, no flicker that the contest may be over or that he doesn't know how to work a way out of the current crisis. There is no doubt that the new kid on the block Rhys Priestland has all of the above. His ability to give direction to a group of young Scarlet backs makes a mockery of his tender years and his contest against O'Gara is the must watch of the round.
Thirdly, flair. However much we try and plan every tiny aspect of modern professional rugby, it is actually the ability to step outside of the pre-scripted structure that often defines games.
Now much is written about the over-coaching of the modern game but whether we like it or not structure is here. It is what moves groups of people around the field at such pace, it's what forms the basis of the chess game between a team's attacking structure and organised defences. But crucially it is the ability of your fly-half to step outside this structure, to pick the right moment when the defence has predicted your movement patterns and come up with something different. Jonathan Sexton captures this best with a dynamic Leinster side who thrive on quick ball with Sexton prepared to sit flat up on the line and test defences. Stephan Donald fresh from his World Cup win will need all his experience to help Bath against a vibrant Leinster.
Keeping it cool
Lastly, composure. Nobody captures this better than 'Mr Cool' Nick Evans.
How lucky we have been to have had the luxury of watching one of the worlds best ply his trade up here. (I don't like the worlds second best as he is often referred to as it doesn't do him justice ) He is a coach's dream to work with, as if there was anybody that just did the right thing at the right time every time it's Nick Evans.
The game of rugby can be very complex and many organised shapes and movements can dictate what option you can take next. This is further complicated by the speed and delivery of ball again in a micro second giving or taking choices from you. The computer-like analysis of what's to happen next sets Evans above anybody else I've seen this year. He has driven Quins to an unbeaten start to the season with a team that has its areas of weakness but are well masked by Evans. His head-to-head with Luke McAlister of Toulouse will not only set up the potential Group winners but Southern Hemisphere bragging rights will also be at stake.
The key is who I haven't mentioned. Toby Flood of Leicester has it all to do in Clermont with Leicester, Trinh-Duc will try and keep Montpellier's first European dream alive and young guns Owen Farrell and Ryan Lamb will be desperate to write their names in European folklore as they battle to keep their teams afloat.
I almost forgot those who grace the Amlin stage. A certain Jonny Wilkinson returns to tread Kingston Park once more, Heineken royalty Felipe Contepomi attempts to revive Stade Francais campaign and a certain Matt Gitau will be peeking at what all the fuss is about.
So when you next login to play Virtual Manager of your Heineken Cup team remember to convince the man with the cheque book to invest heavily on 10!
Enjoy watching Round 3!
Dean's weekend predictions
Quins 10/11 v Toulouse 10/11 - Quins win
Connacht 7/4 v Gloucester 4/9 - Gloucester win
Castres v Northampton - Northampton win
Racing v London Irish - Home win
Saracens 4/11 v Ospreys 2/1 - Scarlets win
Bath 6/4 v Leinster 1/2 - Leinster win
Clermont 4/11 v Leicester 2/1 - Clermont win