Emotionally drained
Dean Ryan looks at why it's difficult to be an England fan at the moment and gives his semi-final picks.
Last Updated: 13/10/11 2:01pm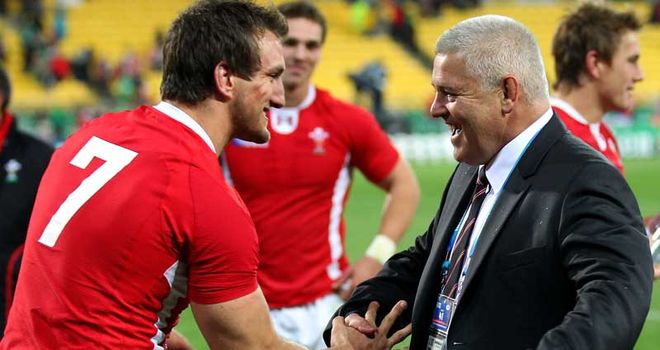 You will often hear coaches declare that winning is everything and even more so than when in the midst of a World Cup campaign, but we have to ask the question "Is it really?"
If England had gone on all the way to the World Cup Final there is no doubt that the nation would have got behind this current team and celebrated our playing style and ability to find a winning pattern, but can anybody really hold their hand on their heart and say they have enjoyed the journey England have been on during the last five weeks?
Of course the fleeting thrill of victory is one to be savoured but realistically the emotions of the following days and weeks are always about the nature of the performance, and this is where England have failed to impress. At no stage have they paid homage to the need to perform and at no point have they left us feeling thoroughly entertained, choosing to follow the mantra that winning is everything.
Well of course it is until it ends, and it is only then that we realise that the only emotion we are left with is that hollow empty feeling. I don't think I'm alone in thinking that this England side has been a difficult one to support over the last few weeks!
Wonderful Wales
One side that hasn't been difficult to get behind (not many times you'll hear an Englishman say this) has been the emergence of a new, more youthful Welsh side. They have been a revelation in this tournament in both the vibrancy and tempo of their game and the discovery of a new driving force within their ranks of young, ambitious rugby men.
Now you can say that many of the selections came around from a unique chain of events ranging from the untimely injury to captain Matthew Rees pre-World Cup that handed the reins to Sam Warburton, and the last minute change that forced Rhys Priestland into the Welsh 10 hot seat.
But the real credit must go to Warren Gatland for recognising what effect the enthusiasm and drive that this new influential crop could have on the wider group.
All sides have a natural hierarchy within them with past achievements and experience a crucial factor in organizing the chain of command, but there are times when this can also act to suppress the views of many of those starting out within the team.
It is often the management's challenge to get that blend right. What is often more difficult to see is how that group would behave and react if they were suddenly at the top of the chain, removed from the shackles of natural hierarchy, instantly responsible for the culture of the team, the standards set in training and the mental approach to each upcoming challenge.
It is here that you see the emergence of new quiet voices from unexpected corners, the idea that nobody had previously thought of and a mind-set not weighed down with previous baggage of success or failures.
This is what Warren deserves credit for in recognising that he had opportunity to change and resisting the temptation to revert to the more tried and tested.
To do this so close to a World Cup after years of planning is a bold courageous move and one that deserves just reward.
Capturing that wave of youthful exuberance before it too gets weighed down with expectation and experience can be one of the most enjoyable coaching journeys.
Sadly we see Ireland exit the competition in a fantastic game for any neutral. I'm sure this Irish "Golden Generation" will look back with great pride on their many achievements within European rugby. The World Cup can be a savage testing ground for any side (you only have to ask any New Zealander) and many of the World's best never actually get to achieve the ultimate prize.
Ireland leave us with wonderful memories of that pulsating victory over Australia which threw the biggest of spanners into World Cup planning by creating the Six Nations loaded quarters and semis.
The emergence of the "Choke tackle" - the clinically-implemented master plan to scupper the Aussie breakdown.
The brutal power running of O'Brien and Ferris that dealt to Italy, and the lasting memory of Brian O'Driscoll gracing a World Cup stage, it really was worth the ride.
Life without Carter
Finally a word on New Zealand and their continuing search for Dan Carter's replacement. Even the most vindictive of scriptwriters couldn't have come up with this succession of events.
Pre-tournament I was in favour of Colin Slade to back up the imperious Carter. He was a player that oiled the cogs within the All Black machine. A player with no ego, not wanting anything for himself but seeing his role as getting the best out of those around him. The perfect number two.
His likely call to arms when planning their World Cup campaign would be for his entrance in the latter stages of a knock out game if Carter had to be forced off and his job would be to sail the ship safely into port.
Suddenly with Carter out of the tournament he was thrust into the number one slot with a Nation's hopes and dreams to carry around, and it showed. He has never looked comfortable carrying that responsibility and he never had that natural aura of 'I'm in charge', something that is essential in any fly half. This was most clearly illustrated in those first ten minutes against Argentina when all and sundry offered him their opinion.
Now his replacement Aaron Cruden is a completely different kettle of fish. Judged too risky to be part of the initial squad for the very same reason that in the last 20 of a semi-final Graham Henry wouldn't want Cruden's entry to overshadow the rest of the team.
This is the very same reason that makes him the perfect Number one. He has that flash of arrogance that makes anything seem possible, and an ego that requires him to be running the show. Whether they like it or not it will definitely be the Aaron Cruden show and maybe, just maybe they have stumbled on the little maestro that can deliver them the ultimate prize.
Dean's picks
After feeling battered and bruised from last week's predictions I'm hoping for a better return and Wales to win against France by eight points, with Halfpenny the favourite to open the scoring.
Even the most reluctant of English supporters have to get behind this Welsh side and get them over the line.
I'm backing New Zealand to win against Australia by ten points in the battle of which fly half gets it right. I also fancy Cruden to get the first try on the board. Who would have seen a Cooper-versus-Cruden face off pre tournament?