Environmental issues
Dean Ryan has some empathy with Martin Johnson and looks ahead to the last eight.
Last Updated: 05/10/11 5:04pm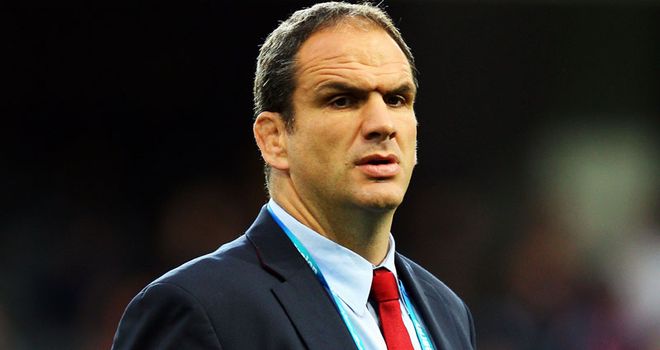 We all can't help but sit in armchairs on this side of the globe and pass comment on recent incidents at the rugby World Cup.
But before we do, maybe we should put ourselves in the shoes of those with the most difficult of jobs: the head coach.
England's Martin Johnson has spent the large majority of recent press conferences fighting fires that were not of his doing and that certainly detracts from what he is trying to achieve on the rugby field.
When we take a closer look at some of his pre-tournament comments when asked about the World Cup environment, I certainly have some empathy with the situation that he finds himself in.
Player responsibility
Johnson clearly stated that there would be no ban on alcohol and wives and that he would work hard to create an environment similar to one that he prospered in when first entering the senior ranks, clearly stating that he was "treated like an adult and there is no reason to change now they are professional".
There is another point of view most clearly illustrated by Fabio Capello in footballs recent World Cup where you reduce the risk of anything going wrong by removing the team from any form of public interaction.
Now this is where things get that little bit more difficult when trying to strike the right balance.
We all are quick to point out the need within rugby for on-field leadership, for players to take ownership of crucial decisions in the white hot pressure that international rugby can be, and even quicker if we feel that those crucial decisions are being stage managed by off field coaches.
But how will we ever develop young men capable of making decisions of such magnitude if we never allow them the trust that is fundamental in personal growth?
More importantly, how is that we should behave when they let us down, because more often than not they will at some stage?
Learning from mistakes
Part of anybody's process of learning will have been through the making of mistakes and how we subsequently amend our behaviour the next time we face a similar problem.
The balancing act between the need to be developing people at the same time as trying to develop on- field talent is a constant one, and one that professional rugby and head coaches must continue to work hard to achieve, especially in the ever-increasing public spotlight.
Whilst we all may of hoped that these problems hadn't reared themselves during a World Cup campaign, let's hope that we never opt for the easiest of answers by removing players from the real world.
The moment we do we will have stopped developing the very same people that one day we will ask to lead their country. If we do, it's at this point rugby's problems will have just got that much greater.
So before we jump to knee jerk reactions about off-field shenanigans and what should and shouldn't have gone on, we should take a moment to look at things through Martin Johnson's eyes and be careful what we wish for.
Fractured unit
When we take a look at Marc Lievremont's problems, we may feel a little more comfortable with our own.
It seems that the French have become a fractured unit, which makes it difficult to predict whether this makes them a more dangerous opponent for England or not.
I don't think that anyone has really got the feeling that over the full term of Lievremont's management that he has had the confidence of his troops.
Somebody told me a long time ago when starting out on my coaching career, "Forget how much you think that you know about the game because if you can't get the man in front of you to listen then you don't know anything".
This can't have felt more relevant to Lievremont than recently when sitting on his own after the Tongan game with a couple of cases of beer for one!
DEAN'S PREDICTIONS
Quick predictions for the quarter final. New Zealand to run the legs of Argentina and I think they could win by 25 points (5/1 with Sky Bet) with the first try coming from Israel Dagg.
South Africa to steamroller Australia and to win by five (9/2 with Sky Bet), but the first try to come from the Aussies - the returning Digby Loane could be a good bet.
England to squeeze the life out of a frustrated French and will win by 11 points (7/2 with Sky Bet). With England's backline misfiring, I expect the first try to come through the forwards and Steve Thompson.
The one I can't seem to call is Wales v Ireland with the Welsh having played some of their best rugby in memory. It will be a shame to see one of these sides leave the tournament.
I may not be able to call this one, but I think the decisive try will be between Ireland's Tommy Bowe and Wales' George North.