The story so far...
Dean Ryan assesses the leading contenders' form ahead of the final round of pool games.
Last Updated: 05/10/11 12:45pm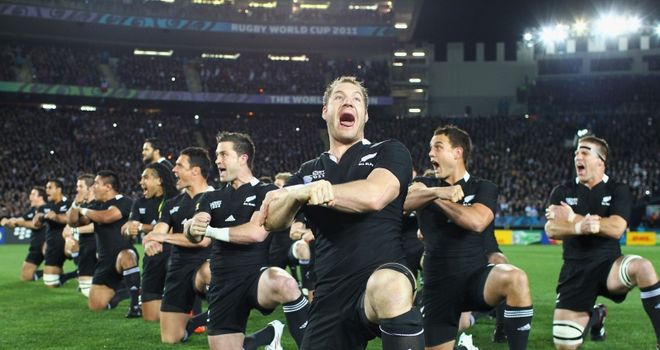 With only one round of the pool stages remaining at the World Cup, what have we learned so far?
We've had an opportunity to assess the leading contenders' form before they get to progress to the knock-out stages, but which sides are looking the strongest so far?
Dean Ryan delivers his verdict on the big sides in each of the four pools...
Pool A
If ever there were points for style then a 20-minute burst late in the first half against France would have seen the judges award New Zealand a full set of 10!
The combination of pace, power and movement off the ball sets them head and shoulders above anything else we've seen so far. Favourites' tag sat firmly on the shoulders with no cracks to be seen yet!!
France, who are 3/1 to reach the semi-finals, should qualify in second place, but don't write off "Les Bleus" just yet as there is nothing like a whiff of rebellion to galvanise the troops.
Pool B
Only the England v Scotland fixture remains where the predicted knockout fixtures could be thrown into disarray.
The old statement (normally words mumbled by a coach who has seen his side drawn against the favourite!) that you will have to beat the best at some stage in order to win the tournament just doesn't stack up. In this case, a Six Nations loaded quarter-final and semi-final certainly has much more appeal.
With the southern hemisphere's finest waiting on the left hand side of the tournament, the outcome of Pool B still has some working out to do, and if anybody needed any more motivation, then avoiding the world's top three ranked sides should just about add the extras.
England will qualify with anything ranging from a losing bonus point. Their victory over Argentina earlier ensures this. One point should see them through in first spot as long as they don't lose to a four-try drubbing by Scotland.
No points and Argentina achieve a four-try victory against Georgia and Martin Johnson's side are on the plane home!
Scotland's chances of qualification depends on a victory against England with either a bonus-point victory or an eight-point winning margin depriving England of any form of bonus point.
Argentina will have to win with a four-try bonus point, but just a win will leave them vulnerable to a Scotland four-try victory over England sending them home.
Argentina will also have the significant advantage of playing on Sunday so that they will know exactly what is needed!
Good luck if you can make sense of that but it certainly sets up a thriller on Saturday.
Pool C
If Ireland were not to win against Italy after that show of strength against Australia, it would rank as one of the upsets of the tournament.
A Six Nations poor showing against "The Azzurri" is the only mental demon yet to be overcome, to enable them to go through in top spot.
If Ireland, via the likes of Paul O'Connell and Sean O'Brien, can harness that burning energy illustrated in the Australia game you get the feeling that they just might have a say in where this trophy ends up.
Australia are to progress in second place knowing full well that any chances of winning this World Cup will be dependant on keeping their starting 15 fit!
A Tri-Nations one-two is not beyond them to reach the final but you get the feeling that resources are already at full stretch.
Pool D
South Africa seem to have escaped from the spotlight during these first few weeks and have quietly gone about their show of strength. They're the most powerful team across the board andif New Zealand are to be stopped these are my tip to do it.
Nil points for style but there is beauty in raw power; you just have to look harder to find it!
The fact Wales are set to progress from probably the most physical of groups shows that they have established a harder mental edge under Gatland.
Again, they're very dependant on their starting 15 being fit but if they can get to the quarters with their outstanding back row of Sam Warbuton, Toby Faletau and Dan Lydiate on the field and Adam Jones in the scrum you get the feeling an upset is within them.