The Fantastic Four
James Gemmell believes you could not ask for a better line-up for the semi-finals of the World Cup.
Last Updated: 14/10/11 1:15pm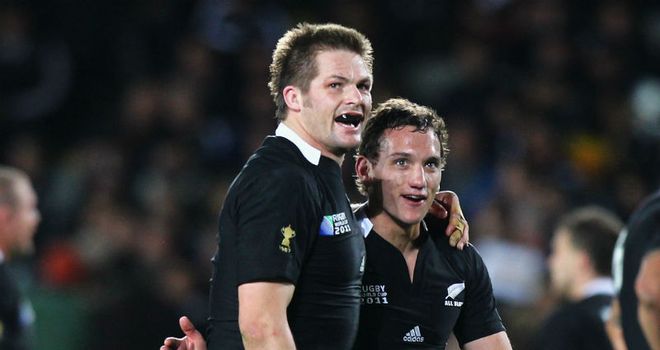 Few would have picked this line-up of semi-finalists, and even fewer can argue with it.
In a Rugby World Cup cycle that has seen experiments with rules and adjustments to interpretations, the final four teams standing in Auckland are evidence that someone, somewhere, has got something right.
There is still a lot of uncertainty that surrounds our game's rules, and we're all hoping the whistle isn't the winner this weekend or next, but we can take heart that the tournament thus far has promoted attack over defence.
At this same stage in 2007, the semi-finalists were a direct reflection on the state of our game at that time. South Africa, England, Argentina and France fought for a place in the Paris final following what was a largely defence-oriented tournament. The rules at the time had spooked the attacking team, and the 'boot and bring down' formula had become a winning one. It's little wonder the above teams prospered.
Now, in 2011, the teams tell the tale once again. But it's been more entertaining along the way. Wales, France, New Zealand and Australia will this weekend fight for the right to contest the title, and there is as much excitement for the contests as there is for the results. Who knows which way things will go, but we're bound to have fun finding out.
Fairytale
Wales are without doubt the fairytale story of the tournament. Hailing from the only nation as obsessed with rugby as the hosts, they've gone from hopeful qualifiers to World Cup contenders in a matter of weeks. They've performed with courage and maturity, and they've played with flair. Theirs is a style of play that's easy to like, and it's been fantastic to see them prosper under the current conditions. In Sam Warburton they have a leader to follow, and until yesterday they had Rhys Priestland, a northern flyhalf that took the ball to the line. I can tell you now, if the All Blacks don't win their semi and Wales do, this nation will fall in behind the men in red.
France have given us everything we've come to expect from them; passion, dis-harmony, and a total un-predictability, not necessarily in that order. They are a journalists dream, a fan's nightmare and brilliant for the Rugby World Cup. They can be painfully defensive or mesmeric on attack. That's probably why they're the only team in both 2007's semis and this year's. Many seem to think that France only have one big game in them per tournament, but how typically French it would be if they produced a second.
Earning the right to win
The Wallabies have wobbled their way into the final four, and their own inimitable way, are as dangerous as ever. The team with the most natural attacking ability still remaining, they're also the savviest. But they are physically the least imposing, and therefore have to sometimes lean too heavily on their ball-in-hand wizadry. Even if rugby has swung in favour of attack, teams must still earn the right, and sometimes the Australians simply don't, or can't. Their win over the Springboks was more of a grind than they're used to, and the fact that they came through it is testament to their improving versatility, perhaps with a little help from a friend. Their remarkably low possession stats and remarkably high tackle count add weight to the win, but could add weight to their legs and shoulders if similar questions are asked on Sunday night. They'll turn up to play because they'll have to.
Belief is the key for Kiwis
And finally, to the tournament hosts. They were the most balanced team coming into this tournament, but injuries have taken their most important attacking force from the field and restricted their most important defensive weapon. They remain capable of winning this tournament, indeed they remain the favourites, though the bookies have put a lot of faith in home advantage and those that remain in the black jersey. The question now rests on the belief of the players, pure and simple. If they genuinely believe in themselves, then the weight of the nation that rests on their shoulders will feel that much lighter and have much less impact.