Calm before the storm
James Gemmell has been pleasantly surprised by New Zealand's reaction to the loss of Dan Carter.
Last Updated: 10/10/11 3:49pm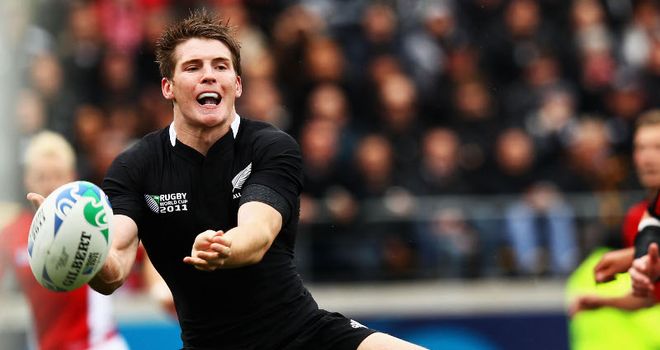 Just when New Zealand thought things couldn't get worse, it turns out Richie's dud foot could put him in the stands with Dan. Well, for the quarters at least.
McCaw has had trouble in his boot since February, when an innocuous training ground incident put him under the knife.
The inserted screw has never sat that well by all accounts, and the foot has become increasingly difficult as the season has gone on. Play is not possible without some pretty serious painkillers.
It's not expected to keep the captain from the field when it really matters, but speculation McCaw may sit out the Argentina match has confirmed that it is far more serious than previously known.
And it was all going so well...
Worst case scenario
The loss of Carter, followed by the fallibility of McCaw, is the realisation of New Zealand's World Cup worst case scenario, just as we enter the most anticipated two weeks in the country's rugby history. The nation holds its breath, but has actually responded in a way I've found intriguing.
Maybe I missed the memo, but the people on the street, the media, and if you believe them, the All Blacks themselves, seem to be taking it all in their stride, even if a gammy groin and dodgy foot mean Carter and McCaw aren't striding anywhere.
There seems to be pragmatism, a calm that has descended. With a fully fit Carter and McCaw, the All Blacks deserve their star billing. New Zealanders believe in their team to the point of arrogance, and that expectation can be suffocating.
Now, everything has just softened a touch. There's sympathy in the public domain, an almost maternal sense of support.
Even the international visitors, who must quietly be ecstatic at the All Black losses, are outwardly expressing their sympathy to Carter. It is quite bizarre to experience in the build-up to the Rugby World Cup quarters, and I think it just might help the All Blacks.
The opposition also helps. Argentina have a woeful record in New Zealand, and are down on firepower themselves. This is the easiest to pick of the quarters, and is the least likely to go against form. With that in mind, stress levels have remained in check.
It should be a match Colin Slade can control and manage, and if a replacement for Richie is needed, he will be in for a physical night, but will do the job, whoever he is.
Sunday going to plan, the All Blacks will then be one step closer to a World Cup final which, if they progress, will be against a team from the north. Rightly or wrongly, Kiwis will view that fixture with confidence.
Boks or Wallabies?
And so it's all eyes on Wellington on Sunday evening as an opponent in the final four is decided.
It's hard to believe that by the time the All Blacks kick-off against Argentina, one of Australia or South Africa will be packing their bags. It may have been a rough World Cup week for New Zealand, but things will be a lot worse for another of rugby's heavy hitters by 8 o'clock Saturday night.
So who would the Kiwis rather face? Australia and South Africa bring completely different strengths, but are equally effective when on song. The Wallabies have flown under the radar since their Eden Park shocker, and many have written them off against the forward power of the Boks. Remember, it was up front that Ireland made a mockery of Australia's world ranking.
South Africa, in contrast, have caught the attention of many with their rise from Tri-Nations obscurity. Even if their form hasn't been vintage, they enter the quarters with the momentum and confidence that comes from topping the toughest pool.
It's a difficult one to pick. I get the feeling New Zealand would rather play South Africa, and I get the feeling New Zealand will play South Africa in the semis.
Threat from the North
What happens on the other side of the draw is a lottery, but there's a fairy-tale story developing around Wales, and it's one New Zealanders have bought in to.
There's the Kiwi coach, of course, but then there's the style of play, the young talent, the all-round love of rugby that comes with their supporters. There would be a certain poetry about a New Zealand - Wales final, but that is a long way off.
It is game at a time for the host nation right now, past tournaments have proven this, and the loss of their main star has driven it home.
Argentina first, and if Colin plays well, and Richie gets through some work, then job done, rest easy. Until Monday morning...