Dragons fired up
Stuart Barnes lambasts England, but says Wales can bring the Webb Ellis Cup back to Britain.
Last Updated: 10/10/11 3:49pm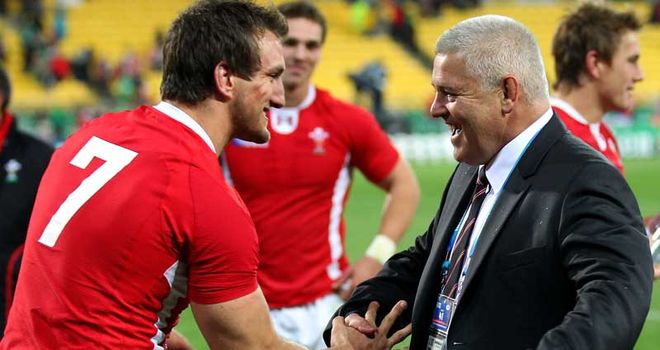 I would like to thank France for putting England out of its misery.
This has been an appalling World Cup for England from first to last. They have become one of the most disliked teams in New Zealand for a whole host of reasons. To challenge Australia in the unpopularity stakes is going some but England has achieved just that.
They have not achieved anything else. Indeed had they been in drawn in the pool of death with Wales and Samoa (taking South Africa's place as the seeded nation), I think they would have failed to qualify for the knockout phase.
Yet Martin Johnson told the world less than 24 hours after England had been eliminated by a French team that had been humiliated by Tonga a week earlier, that, given the opportunity, he would have done nothing different.
Rob Andrew says a 'robust' review will be undertaken. No such thing is needed. The inability to see what an erroneous path England has taken serves notice enough.
In another age, Johnson would have seen it as his national duty to resign. These are different times and England is no longer a country where those in charge take responsibility for failure so do not expect a show of integrity as displayed by South Africa's Manager, Pieter de Villiers, who resigned in the wake of defeat.
Chaos
Andrew himself and the management board that has wreaked such chaos within the English game in recent months should be looking in the mirror. How could England have appointed a man with absolutely no management experience whatsoever as national manager?
No other country has attempted anything so remotely hare-brained. Great World Cup-winning captains do not automatically metamorphose into great managers. Who knows, Johnson may one day be as good a manager as he was a skipper, but he should not be allowed to learn on the job.
His many defenders point to the comparison with Clive Woodward, who failed in 1999 only to succeed four years later. But Johnson has had far more time at the helm than his old boss ever did and in that time has done little to change the structure of a struggling team.
He stayed with the wrong captain (Steve Borthwick) and the wrong centre pairing (Mike Tindall and Shontayne Hape) for far too long. When Tindall was adjudged unfit for duty, Johnson gambled on playing Toby Flood at centre, a gamble that came horribly unstuck as France waltzed around the England midfield. The arch conservative ended up taking his best strike player, Ben Youngs, off and bringing Richard Wigglesworth on. The Saracen scrum-half is many decent things but an impact player he is not.
It was a frenetic and ill-conceived end to a one-paced campaign where only the cheerleaders within the national media saw improvement that was never coming. England arrived in New Zealand respected but not loved. They leave neither, but with a 'robust review'. Much else could be written about this England team but most of it is best forgotten.
Focussed
On a happier note, Wales continue to march on. They were the team of the weekend in their 22-10 victory against Ireland. Two matches from the end of the tournament and people here are taking note. Warren Gatland has his men in prime condition and utterly focussed on rugby. The young players have cast off the fear of failure that has haunted many a talented but mentally-weak Welsh team.
In Sam Warburton, they have the captain of the tournament to date (although the magisterial performance of David Pocock in the epic Australian defeat of South Africa takes the performance of the tournament award to date) and in Jamie Roberts, they have another of the players of the competition.
They must attempt to do what England never looked like doing: beat France. It will not be easy. France will have drawn confidence from the quarter-final but Wales is the superior team. Having come this far playing the rugby they have, Wales has to reckon this tournament a failure if they fail to make the final.
Having lived most of my childhood in Wales and been reared in rugby there, I have never denied my soft spot. Those Englishmen who (often rightly) point out how Wales would support anyone but England in this situation (and I saw the multitude of Welsh fans wearing Aussie shirts in Sydney 2003) can make a statement for Britain by supporting Wales.
The Welsh team are not doing it for Britain but their own country. That should not stop the rest of us Brits cheering them on, though. I am a bona fide Francophile but the heart is with Wales all the way.
Dwindling
In the other semi-final, New Zealand face Australia and confidence is dwindling. The Wallabies, inspired by Pocock, toughed it out with only 24 per cent of possession to beat South Africa, while the All Blacks thrash around in the midfield without Dan Carter. Australia will need more possession and some sort of return to form for Quade Cooper. Maybe he should stop Twittering and focus on his day job.
New Zealand has to do nothing less than change its entire team structure. In the game against Argentina it was noticeable how everything went through scrum half, Piri Weepu. Not so long ago he was scrapping for the No. 9 shirt. He has played well and earned it, but now he has to cope with the pressure of becoming the tactical linchpin and goal kicker. I'll use a word much beloved in this lovely land; it is an 'awesome' responsibility and should the Wallabies get to him or should Weepu crack, they will see the link between forwards and backs eradicated.
Colin Slade limped off injured and the youthful talent of Aaron Cruden emerged from the bench. He appeared a cooler head and far more capable of handling the pressure as Carter's back up. Even so...
Perhaps Graham Henry has something up his sleeve. If he does not, Australia has a great chance. If he does, they still have a chance. The aura of invincibility has gone with Carter and the fact that Richie McCaw is playing his way through pain. With Carter gone, a man-to-man mauling at the hands of Pocock might just tip the All Blacks over the edge. It is Monday morning as I write this (Sunday night BST) and I am already excited by the weekend ahead.
Should Australia battle through, how much would they have left for a final? If the All Blacks prevail I will be shocked if they lose the tournament but I can see Wales, first beating France, and then Australia, should they be the finalists. This is a time to dream those old rugby dreams all the way from Llanwern to Llanelli.