Keep it real
Stuart Barnes looks at the overreaction to Dan Carter's World Cup woes and previews the quarter-finals.
Last Updated: 10/10/11 3:48pm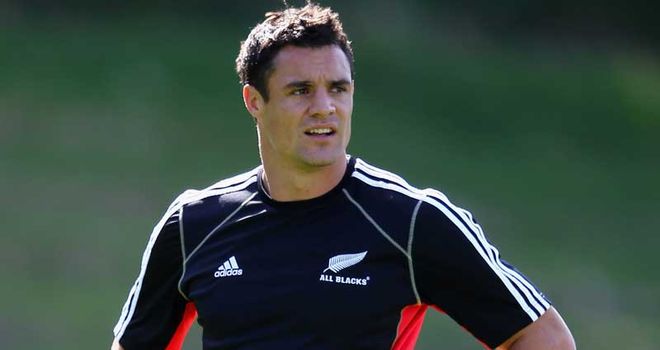 In case you haven't heard the news, Dan Carter is out of the World Cup. Four games of rugby were overshadowed by the news of the great fly-half's groin injury. It is the injury the country has dreaded for four years - or so we claimed in the media.
Working from 10am Sunday to 1am Monday, I can't pretend I had any contact with the affable Kiwi public whatsoever, but if they were not in a state of mourning when they heard the news they most certainly were by the time we had filled the airwaves.
It started with the UK based Sky where the England victory against Scotland was relegated to the parochial bun fight it actually was; so that was for the good.
Then we grieved, just about no other word would do. Graham Henry asked for sensitivity and I had to change tack. I was speaking the same funereal tones as the rest of the studio but something snapped.
Yes, it is awful for Carter and not great news for the rugby purists that have travelled all this way to see the World Cup dominated by the great names. But Carter will recover and New Zealand has to get on and try to win the World Cup without their playmaker.
The tone in which we were talking relegated all the other injuries to the sidelines. Juan Martin Fernandez Lobbe - an injury even more debilitating for the Pumas than Carter's for New Zealand - is relegated to unimportance as is the blow of Frans Steyn's and Aurelien Rougerie's departures.
Of course, Carter, the golden boy of world rugby is the headline news, I thought, but then I realised that the significance is being set and determined by us and I don't think that Carter's injury is any more worthy of sorrow than Lobbe's.
I am sure Carter, a modest, level-headed man, will agree. He is a typical New Zealander, modest, humble, devoid of any traces of arrogance. He is a special player but his absence is a fact of rugby life like all the others.
Just because we set the headlines it does not mean that the received wisdom should be followed. So take a contrarian stance and feel a bit for Colin Slade.
Suddenly the All Blacks reserve fly half is the centre of a nation's rugby attention. Failure to win a competition for which they have long been favourites will almost certainly centre on unfair comparisons between the two men.
Henry asked for all of us to support him which is, frankly, not the job of the media but the New Zealand public should get behind him and the best way to do that is by not mentioning the Prince who has been deprived of his chance to ascend to the throne.
The final eight
So to the rugby and the quarter finals; the Hemispheres have split with Europe guaranteed a finalist. That likelihood became a fact when Ireland overwhelmed Italy to make the strong probability of an Ireland v Wales semi-final into a certainty.
Momentum is just about my least favourite sporting word; it's such a cliché but whatever we think it means, well that's what Ireland and Wales are fuelling their campaign with. The Irish front row faced down the somewhat overhyped Italian pack and delivered a platform for their back row to drive Italy into the ground with a remorseless display of hard running.
It remains very European in the way that contact is constantly taken but when the opposition is just about levelled the efficiency with which Declan Kidney's men put them away was impressive. They look good, very good and will have to be. The Wales team they face are playing better rugby than either of the Welsh Grand Slam teams of the last decade.
Warren Gatland has done a masterful preparation job. The Polish camp has given them condition superior to any I have EVER seen from a Wales team but that's the obvious part of what he has done. The slow development of the team, the losses that had a nation screaming for blood while he plotted this future, was the masterstroke.
Like all generals he has been lucky. The bad luck, the rotten luck that deprived Matthew Rees of a World Cup allowed the manager to install a 22 year old as captain and the appointment of Sam Warburton has been inspired and inspiring.
The youth of the skipper, George North, Scott Williams, Dan Lydiate and Toby Falatau has brought through a team without the psychological hang ups of Welsh rugby history where the Southern Hemisphere was a place to be feared. And how ironic that Rhys Priestland's missed drop goal against South Africa has worked out so well.
Favourites
Ireland will be a fearsomely hard quarter final but victory in that match sets them up for a crack at either England or France. Now form lines alone cannot be trusted but at this moment the winner of the Celtic clash must be seen as favourites to make the final. They are playing a brand and pace of rugby beyond the grasp of either of the European giants.
France might find eighty minutes of something (although this appears a cliché, such is their state of disarray) but were they to beat England the odds on this shambolic looking team doing it again appear remote.
Wales would not fear them although Ireland would need to put their awful record against France behind them and this fact undoubtedly would have some impact. But this World Cup seems to be played in a world of its own; given this maybe Ireland can forget history and play their game. If they do that they should beat France or England.
So too Wales whose propensity to concede penalties was the only blot on their landscape. A high tide is running red. They are ruthless in their finishing, powerful in their contact work and with Adam Jones and Gethin Jenkins back fit, solid in laying their foundations at the scrum.
Few people mention Luke Charteris but he has undergone a profound transformation to line out ace and hard hitting lock with a high tackle rate and a huge heart. He went to Poland a streaky rugby player and has come back like a Welsh superhero.
Wales and Ireland has ignited the tournament from the perspective of my eyes. Europe is being treated with rare affection in New Zealand. England has the nation's respect but no love whatsoever and who's to blame the natives? Martin Johnson's team has won its' all its pool games but this pool was the weakest of the quartet by a distance.
Endurance
The Scotland match was a triumph for endurance and fortitude but there is a lack of speed and accuracy in every facet of the game. Perhaps England is timing its run to perfection and Johnson will be proved a master strategist. Perhaps not; Jonny Wilkinson's injury might be the bad luck for the fly half and the good luck for Johnson that our lucky generals require. Having seen his percent game fall apart and his confidence pummelled by his ball problems,
Toby Flood should be a certainty for recall. England has to remove the blinkers and get its back three into the game which Flood is more adept at doing.
Defeat in the quarter final and Johnson should resign. His record over the years is poor in terms of performance and percentage victories. A semi-final is the least an England team should achieve with their depth of resources, both playing and financial. France are there for the taking and taken they must be. I expect England to win. And then a semi-final where on form they will be underdogs; which brings me back to the missed Priestland kick.
Had the Welsh fly half (another selection triumph for Wales) won Wales the match they would be facing Australia in the quarter final and then New Zealand in the semi-final. Ireland and England/France is the route to take. As I sit here writing it makes me wonder whether the rugby Gods are on the side of Wales.
South Africa against Australia will be epic. Europe will hope they batter themselves senseless. South Africa will merely hope to batter the speed and skill out of an Australian side still capable of beating any side in the world although perhaps too callow to do it three weeks running.
Argentina is delighted to have made the quarter-finals. The loss of Lobbe was huge but they have overcome it in a gritty if uninspired manner. Lucas Amorosino and Juan Jose Imhoff have produced some superb individual moments but the All Blacks will run them off their feet.
Some strange things have happened so far in this tournament (huge respect to Tonga for downing feeble France) but if Argentina beat New Zealand at Eden Park I predict the world will stop spinning - with or without you know who. It is about the only confident prediction I have left in the locker.
It promises to be the sort of weekend that occurs just once every four years with Wales versus Ireland and the heavyweight clash of two of the Tri Nations. Auckland is the geographical heart of this World Cup but Wellington is definitely the place to be if you love your rugby next week.