Green shoots
Stuart Barnes says Ireland have emerged as potential finalists, but England remain unconvincing.
Last Updated: 19/09/11 12:36pm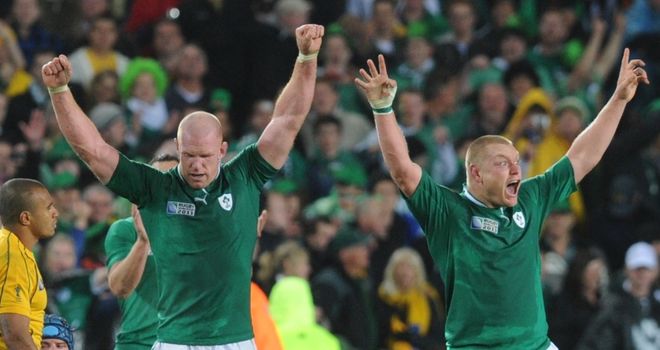 It was a good weekend for the home nations.
In the absence of the resting Italians and Scots the four remaining Six Nations teams recorded a 100 per cent win record. So much for the results; what about the performances?
We have to start with Ireland whose victory over Australia has stunned the rugby aficionados of New Zealand. Way back when the Reds were winning the Super Rugby title I wrote a piece for the Sydney Morning Herald stating that the Heineken Cup winners were definitely superior to their champions.
Based on the pace and power at which Leinster play and the iron constitution of the Munster men alongside them Ireland had a side which knew how to win big matches. That is critical come a World Cup. Romania and Japan performed every bit as well as Scotland and France in the first round of pool matches but knew not how to win.
All those Heineken titles set Ireland up for a crack at the vaunted Wallabies. The recent Grand Slam proved to most of them they could handle Test match pressure while the awful run of results took the burden of expectation off them.
Then there is the fact that a win against Italy would prove enough to keep them alive. No pressure, a safety net and a returning warrior combined with crucial late changes in Australia's line up proved an intoxicating cocktail that left the Wallabies well and truly reeling.
Many Australians sniffed at any talk of Sean O'Brien mixing it with the big boys. Well, his return to Irish colours was crucial. His enormous carrying capacity spurred them towards and over the gain line and with front-foot ball they stopped messing around with the lateral running of the backs that has haunted them of late. They came hard and fast at Australia and drove them backwards.
Tide
Yet Australian critics of Northern European back rowers can still point to the absence of David Pocock and claim it could have been so different. All I will say is that he and the much-missed hooker, Stephen Moore, would have needed spectacular games to turn a tide that flowed all green in the second half.
The scrums were dominated by Ireland too with the front row tearing into their counterparts. It was try-less but inspiring. Two moments to treasure, two moments when I thought, "God, Ireland could win."
Firstly, when Paul O'Connell smashed his lock opposite, James Horwill in the first seconds; Horwill has fast become something of a talisman for Australia as a captain. When the pale giant levelled him I wondered. When the pack picked up Will Genia and carried him backwards at a spring I knew.
I have faced Ireland teams of mediocre players and when the swarm happens you are doomed. This side has outstanding players and took a massive step towards something incredible by positioning themselves in the 'European half' of the knock-out stages.
Hopes
European hopes of a finalist are now great expectations; especially with Wales battling past Samoa in a bruiser in Hamilton.
This was a win for conditioning and organisation. The Welsh defence were as good if not better than they were when beating England in Cardiff. Mike Phillips was huge as a fourth flanker but it was the new first man of Welsh rugby that stood out.
A mere 22 years of age, Sam Warburton led the defensive line and whole team brilliantly. Not only did Wales absorb vast periods of pressure, they did so without conceding the penalties which would have allowed Samoa to kick their way back into contention. It was mature, intelligent and inspired...all the things England was not.
They followed straight on from the Welsh game and the contrast between Wales's wisdom at the breakdown and England's anarchic lack of leadership was stunning.
Lewis Moody is neither playing like an international open side nor leading his team like a Test match skipper. England targeted breakdown improvement as a key area for improvement after Argentina and were worse.
Georgia ran out of puff in the end (the four-day turnaround being cruelly exposed as the unjust system it is) and England ran in late, highly flattering tries. Manu Tuialgi's try from a clean line out take by Tom Croft was the highlight and a reminder that England can play.
Right now they look out of sorts and confused. The match against Scotland is no formality. England could yet face the All Blacks at quarter-final stage, although Scotland have much to do against an improving Argentina next week.
Unconvincing
Finally France; like England unconvincing; like England abject for the first hour but dominant in the final period.
Unlike England they are scoring some beautiful tries to show their potential threat but also unlike England there is a staggering looseness to their game in defence. If they keep playing as they are and meet in the quarter-finals it would be the weakest of the quartet.
I have a feeling that before the pool stages are finished we have a few more shocks in store. It has been a thrilling first few weeks with Ireland, bouncing back from abject form to become the heroes of the hour.
Now Declan Kidney has to convince them that the win was a starting point. The final looks a distinct possibility for Ireland although Wales have the appearance of tough quarter-final opponents.
This tournament is like the Auckland weather - changing from minute to minute. Enjoy the third week.