The state of play
As the World Cup squads are announced, Stuart Barnes looks at where the major forces are at.
By Stuart Barnes
Last Updated: 14/09/11 9:51am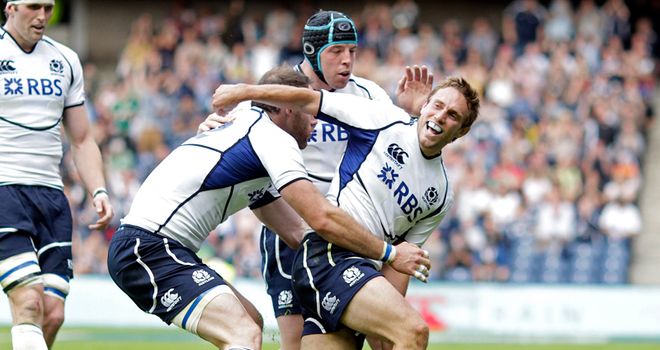 England may have had the weekend off from playing but the team's analysts would have been busy with so many of their pool rivals in action.
I did the dutiful over the weekend and watched both Scotland and Argentina's effort but the highlight has to be the three minute YouTube coverage of Romania's match with Ukraine.
Never has a three-minute clip revealed so little about a game other than the fact that the weather was good in Lviv and Romania ran out 41-16 winners away from home. As they say, a win's a win. Scotland managed a second win in Edinburgh against an Italian team that played with a little more ambition than we are used to seeing.
In fact the first half was a decent game before substitutions took their toll on the game and it limped to a weary conclusion. Quite why teams lose all shape when substitutions are made is a minor mystery that critics and supporters accept without a second's thought.
These squads have been together all summer and you would think that replacements would be able to slot into a side without the disruption that has been occurring in these last few weeks.
The first half would have made interesting viewing for Martin Johnson and his mates. Scotland's glaring weakness was a scrum that struggled to keep its foundations solid. England will target this aspect. That was the greatest concern from a Scottish perspective. The rest of the news was more promising.
Andy Robinson is moulding a handy back row that - on paper - is at least a match for England's while it's line-out is another area of strength. Nathan Hines and Alastair Kellock were formidable. Richie Grey will start against England and Robinson will have a tantalising choice between the rugged graft of Kelly Brown, the regular blindside, or Nathan Hines; his off-loading skills could prove as useful as his line out expertise.
Scotland tried to play a quicker game with Mike Blair impressive. The choice of the starting scrum-half is equally fascinating. Rory Lawson is a favourite of the coach but it is under Blair that their attack is at its sharpest. Nick De Luca and Max Evans were also penetrative with Graeme Morrison playing the anchor role in midfield.
Throw in the Lamont brothers at full tilt and Scotland have the makings of a decent side. South of Hadrian's Wall rugby watchers knowingly discuss their lack of gain-line penetration but they are not the only team in Britain struggling in this department. The scrum is the real Achilles heel however.
Argentina's scrum wasn't as dominant as they might have hoped against Wales. Put that down to the return of Adam Jones, arguably Wales's most important individual. If he can hold the scrum together Wales has the capacity to produce a good tournament effort. He played the part well enough on Saturday.
Formidable
Elsewhere Argentina managed to control the ball for most of the first half without testing the front line of the Welsh defence. There were neat touches but nothing explosive. In addition their failure to take their points during the long periods of territorial control is a major worry.
England and Scotland have players equipped to take points whereas Felipe Contepomi is not a kicker on whom a team can rely. If they cannot score tries and kick all their points it is hard to see them escaping this tricky pool.
They will definitely improve but they must find some men to open up a defence and find a guaranteed goal kicker. Until these questions are answered they must be seen as third favourites. I wish I could offer something on Georgia but I can only suggest they will have a formidable scrum and some hard men.
From the viewpoint of Wales, their ability to strike with ball in hand was encouraging but they have to ditch this habit of playing without the ball for long periods. As South Africa are first up they must find a huge improvement in their overall forward play and their work at the breakdown has to be another class to anything yet seen.
I write that because Heinrich Brussow showed his influence for South Africa in victory over New Zealand. His work at contact is as good as anyone on this planet. There was no Richie McCaw opposing him but the fact that the Free State's Test record against the All Blacks is played four, won four, tells you all you need to know.
Versatility
Beat the All Blacks at the breakdown and they can be beaten on the scoreboard. Brussow's return to fitness is great news for the Springboks but not so wonderful for Wales. Sam Warburton should be preparing himself for the test of his career.
Behind the scrum it wouldn't have been a surprise if Lee Byrne's slump from the heights of his 2009 form is not confirmed with omission from the Welsh squad. Rhys Priestland's ability to perform at Test level and Leigh Halfpenny's versatility - not to mention James Hook's capacity to play 15 - gives Warren Gatland a range of options for full back. He might prefer another forward to aid his hand up front where options are not as good.
Across the Irish Sea, the French hoodoo over Ireland continued. The home side started and finished well but in between were way too lateral. They have some work to do behind the scrum. The consecutive losses to France mean victory against England becomes extremely important.
We can talk up the importance of momentum pre-tournament but Ireland's morale will not be in a good place before they encounter Australia unless they can beat a side they beat as regularly as France beats them.
These psychological hang ups are deeply bizarre. If Ireland plays as they did to prevent England winning the Grand Slam they will travel with plenty of confidence, especially with France in the other side of the draw!
Psychologists
As for France, there are signs. They have power up front, penetration behind, a range of goal kickers and in Francois Trinh Duc an aggressive fly-half who can challenge defences and make space for genuine talents like Maxime Mermoz.
At their best France appear the most complete of the European challengers but if events go according to theory they will England in the quarter final and France do not like facing England, whereas England will fancy themselves against France no matter how unimpressive they have been to date. Maybe we should be analysing the strengths and weaknesses of the World Cup psychologists; they could be the Bletchley Park of 2011.
The World Cup squads are being announced today; I'll be back to focus on the English squad announcement in particular and seeing if anyone will be as desperately unlucky to miss out as that outstanding Clermont Auvergne loose head, Thomas Domingo. Fabien Barcella is obviouly fit and raring to go.
What price a repeat of the only other final played in New Zealand in 1987 and New Zealand facing France for the second time in a month? Just a thought...